Karrueche's Camp Says She Believes Chris & Rihanna Were SEXIN' For WEEKS
Oct 04 | by Natasha
The love triangle of the year implodes even further. Chris Brown's now ex-girlfriend, Karrueche Tran, allegedly told her friends she believes Chris was cheating and bangin' Rihanna for WEEKS.
Deets on heartbroken Karrueche's betrayal, plus news on Rihanna's new album...
Karrueche's not speaking herself. But her friends surely are.
In the last 24 hours, we've seen Karrueche jet out of NYC, leaving Chris & Rihanna there to canoodle at Jay-Z's concert as much as their heart desired. And we learned, from Breezy himself, that he indeed broke up with Karrueche in order to pursue a "friendship" with Rihanna.
Now, Kae is calling bullsh*t on it all. Her camp says she believes that Chris has been visiting and partying with Rihanna behind her back for weeks, and she's been suspicious of his actions for a while. She feels utterly betrayed because, unlike everyone else watching this ish go down, she thought her relationship with Chris was in tip top shape. TMZ reports:
We spoke to multiple sources connected to Karrueche Tran ... who tell us KT feels betrayed by Chris because he had promised her that she was the only woman in his life ... especially when she probed him about his feelings toward Rihanna.

We're told Karrueche had suspected something was up between the two of them for weeks because Chris was acting differently -- going to clubs alone, acting distant and ramping up his public appearances with Rihanna.

Sources say Karrueche told friends she truly loved Chris ... and felt that the relationship was great until Rihanna let Brown back into her life.
No shocked faces over here.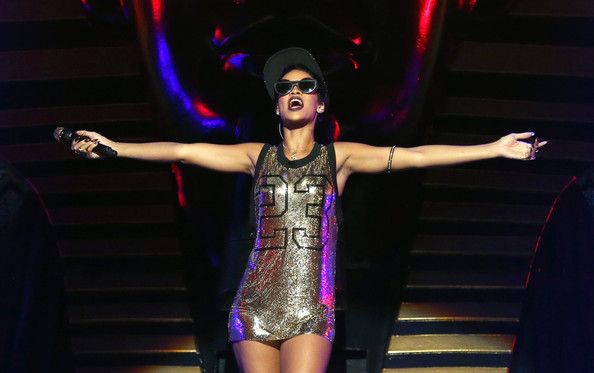 BONUS: Meanwhile, this convenient wave of publicity will likely be put to good use by Rih Rih's team. Or will it?
Earlier today, Hits Daily Double revealed their weekly upcoming releases chart. And they listed a new album from Rihanna, called Seven, set to drop on November 19th. That's the same day as AC/DC and Keyshia Cole.
Mysteriously, the whole Rihanna portion was deleted about an hour later. Looks like her fans will have to wait and see what the final album title and release date will be...
But seven albums in seven years? Quantity over quality has always been the industry's way....