Stacey Dash & Donald Faison REUNITE With "Clueless" Cast!
Oct 06 | by Natasha
It's hands down one of our fave movies of all time. So check out Stacey Dash & Donald Faison (who have barely aged since those "You jeepin' behind my back?" days) having a major Clueless reunion with the whole cast for Entertainment Weekly....
In the recent issue of Entertainment Weekly, the mag's Reunion Special features the cast of the 1995 classic Clueless movie.
So during their interview with "GMA" about the issue, Stacey Dash & Donald Faison gave us a peek into their roles as Dionne & Murray, and they spilled a few secrets with co-stars Breckin Meyer, Alicia Silverstone and the rest of the cast. The cast also remembered Brittany Murphy in a fun-loving way.
Stacey commented about the fashion in the movie saying, "That [black & white topper) hat! I thought it was very fashionable. I felt like Audrey Hepburn.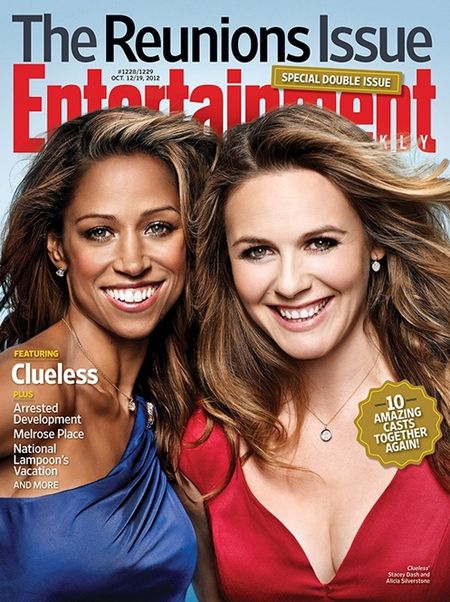 Highlights from the issue:
Stacey on playing a high schooler at 27
"I was 27, and I was playing this high school student and I had a son at home who was six years old."
Donald on Clueless being a surprise hit
*Everybody's expectations were low. When we were making the movie, you don't think the movie's going to be good. You think, I'm making the next License to Drive. You think this movie's going to be just for teenagers and that's it."
Donald on the lingo that infiltrated an entire teen culture
"I had no idea what the hell I was saying. What the f— is a 'Monet'? What's 'going postal' mean? And when they explained to me what it meant, I thought, 'That's really messed up!'"
Loves it all!