Jennifer Hudson Sings for President Obama's Hollywood Fundraiser Concert
Oct 08 | by Natasha
L.A. Obama supporters who could dish out $250+ for Presdient Obama's fundraising pockets were treated to a concert of Jennifer Hudson, Katy Perry, Stevie Wonder & Earth, Wind & Fire Sunday night. Check out pics and video from the affair inside...
While President Obama made light of his less than stellar debate performance from last week, several folks like J-Hud and Katy Perry took the stage to perform at the "30 Days to Victory Concert" at the Nokia Theater last night. Prez O took the mic in front of 6,000 concert goers saying:
"Everybody here is incredible professionals, they're such great friends and they just perform flawlessly night after night. I can't always say the same."
Ha!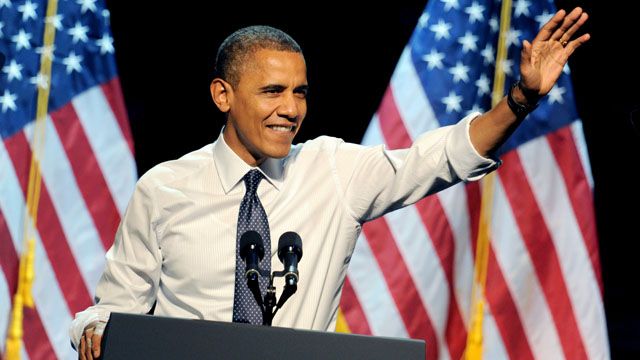 And Jenny hit the stage in a chic blue dress, while Stevie also took the stage to perform.
As for the high rollers in L.A. who Obama kicked it with--he hit up another fundraising event on Sunday at Wolfgang Puck's WP24 restaurant. And those folks--150 of them--shelled out $25,000 a plate. Must be nice...
Check out Jenny performing below:
BONUS: Several YBF athletes appear in a brand new Obama campaign video that was just posted on the President's Facebook page. Alonzo Mourning, Dahntay Jones, Harrison Barnes, Etan Thomas, Kym Hampton, Vince Carter, Juwan Howard and more share why they support President Obama.
Check it.