Laura Govan Covers ROLLING OUT, "Basketball Wives: LA" Season 2 Is A RATINGS FLOP
Oct 11 | by Natasha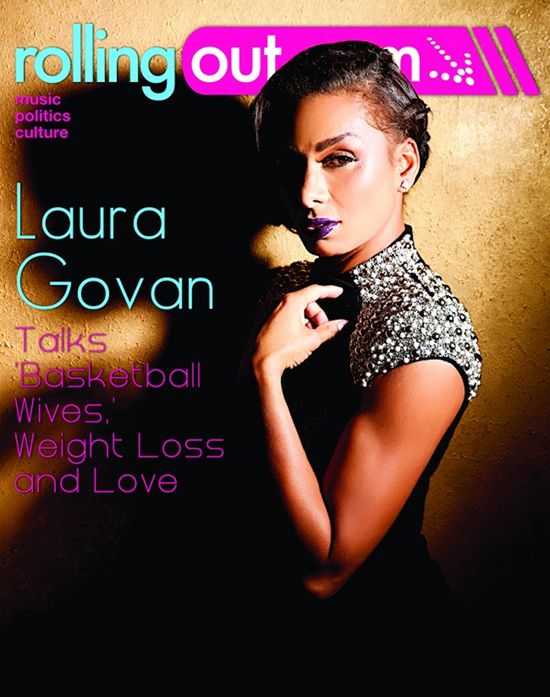 Laura Govan of "Basketball Wives: LA" has her own Rolling Out magazine cover that just dropped. And it's a follow up to her little sister Gloria's cover shoot with Glo's new husband Matt Barnes.
Check out Laura's cover inside, plus why season 2 of "BBW LA" is a ratings fail....
Big sister Govan is covering the new issue of Rolling Out. And she's clearly enjoying her new post-baby sleek bod. And she's also talking about what it took to get there. And she's dishing on both her body (86 pounds later) and her relationship. Check out the highlights from her interview below:
On what made Laura kick her fitness routine into high gear
"I got lazy after the fourth baby. I said, 'oh well.' I got big, f— it. I'm just gonna keep it rolling," says Laura while having her hair toyed with. "I still ate like I was pregnant for a while. I'm the type of person who says 'Next Monday, or the 15th,' that was me. One day my daughter was like 'you got milk chocolate t—,' because my nipples were so big and so dark. And then she was playing with my back fat, and it made me say, 'wait a minute.' "
On losing weight naturally instead of surgery
"When I got serious the weight started dropping off. I did my workout throughout my house, because I was uncomfortable going to the gym. I didn't wanna wear Gilbert's shirts to the gym, I didn't want anyone looking at me, period. After I lost about 20 pounds I went to a doctor and said 'can you take all of this off?' He said, 'No, you need to work out.' The doctor told me if you lose 50 pounds I'll do [a tummy tuck] for free in two months. I gave myself three months and lost 64 pounds."
On whether she lost weight to get Gilbert back
."My first motivation was to get back at Gilbert like, 'I'll show you what you lost.' But it became more than that. It became about me, it became about my health, and I did something about it."
On her "hard earned" fat engagement ring from fiance' NBA baller Gilbert Arenas
"I work hard, we've been together 12 years. It's not about the ring size, it's about what this represents. Had he given me a string and tied it around [my finger], and said words that were meaningful — that would be just as meaningful as a million-dollar ring. That's not what it's about for me. It's about raising a family, having values. Being able to look at each other and like each other. You can love a n—– all day, but if you don't like him … You have to learn each other."
On what she thinks about herself
"I'm real, I'm cute, I'm all-American, girl!"
Get the whole interview over at Rolling Out. Here's some behnd the scenes footage:
But it's not all roses from the whole "Basketball Wives LA" cast. While their inaugural season saw about 2 million viewers per episode, this season is barely half that. After the premiere a few weeks ago, the show is getting almost a million viewers per episode.
And with most of the other reality shows getting at least double that on VH1, we can't help but think the L.A. spinoff chicks just may be kicked to the curb soon.