FOOLISH ACTIVITIES: Flavor Flav & His Struggle Mugshot After Alleged ASSAULT With A DEADLY WEAPON
Oct 17 | by Natasha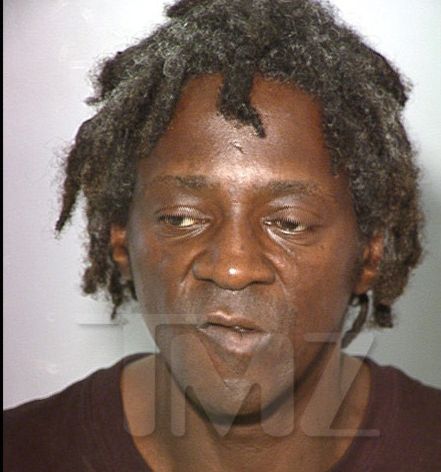 Flavor Flav is looking a mess these days. Yes, more than his normal mess. And he's acting a mess too. Deets on him getting arrested for alleged assault with a deadly weapon, which may or may not have been on his own child, and his struggle of a mug shot inside...
So over in Vegas, Flavor Flav is cutting up at his house. Mr. Drayton and his disheveled demeanor apparently got into a fight with a youngin' and his fiancee inside his home. Dude pulled out a gun and battery ensued. He was cuffed around 3AM and and charged with felony assault with a deadly weapon and misdemeanor domestic violence (battery). And he has yet to pay his $23K bail.
According to TMZ:

Law enforcement sources tell TMZ, Flav -- real name William Drayton Jr. -- allegedly got into a heated verbal argument with a teenager in his house, as well as his fiancee. His fiancee then called 911.

It's unclear if the teenager is Flavor's child.

According to law enforcement sources, Flav allegedly threatened one person with a knife during the argument, and battered the other -- it's unclear which person he threatened, and which he physically attacked.

As for this mugshot though...
BONUS: Katt Williams was also arrested last night...but released hours later...once an unregistered gun was found in his car outside of a Hollywood nightclub. No charges were filed.