Stacey Dash Shows The World She Voted Early For Mitt Romney, Vivica Fox Rips Her A New One
Oct 24 | by Natasha
Stacey Dash is a woman of her word. She said she's all about Mitt Romney in 2012...and she just showed the world how she voted for him early. Peep her pics inside...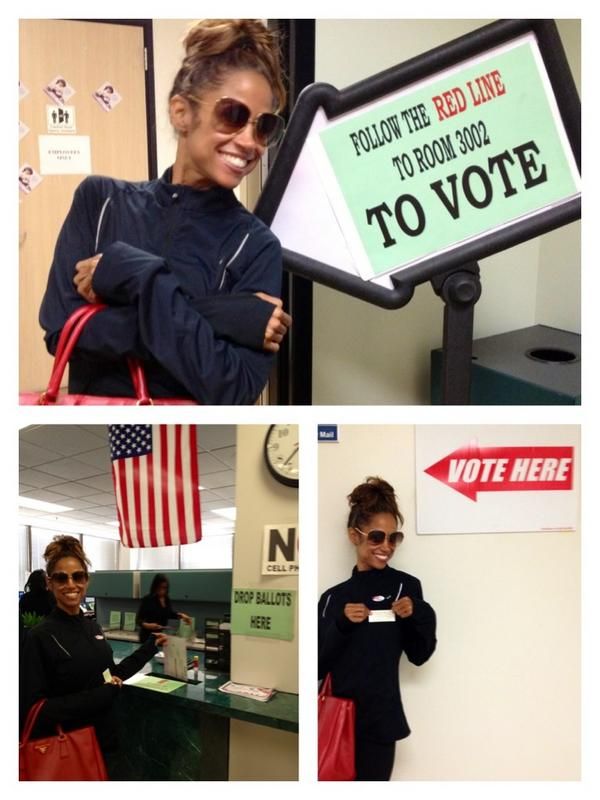 The former "Single Ladies" star, Stacey Dash, hit up her local polling place in Cali yesterday to drop her ballot early. She tweeted pics of her exercising her right to vote...and tweeted "That's Right!" to a fan who said "Romney 2012!"
Meanwhile, fellow 40-something actress in Hollywood, Vivica Fox, had a few words for Ms. Dash. And they were mainly about that random red swimsuit Stacey rocked during her "coming out party" for Romney. Viv told The Grio this week while doing promo for her Lifetime show:
"I don't know why she [Stacey Dash] had to do a photo shoot in a Baywatch red swimsuit with the boobs and the whole flag behind her. And she doesn't have a job or something to promote right now. I just didn't get it.
Bloop. And before you go saying Viv doesn't have a job either--she actually has two right now. She's the host of Lifetime's "Prank My Mom" and also stars in the upcoming sitcom "Mr. Box Office."
Viv continued:
"She's entitled to her own opinion but it was just surprising that first of all she was a Republican, and that she did it the way that she did. Most politicians when you support them, you try to support them with class, you don't need to do a swimsuit shoot."
Like we said before, you can endorse whomever you'd like. But don't be surprised if no one takes you seriously when you're looking like an extra from 'Baywatch' while making your announcement...with a photoshoot. Just sayin....