Colin Powell ENDORSES President Barack Obama AGAIN, President Obama REVEALS Why Donald Trump DOESN'T Like Him
Oct 25 | by _YBF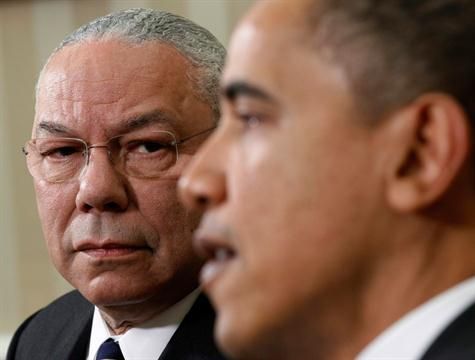 This morning, POTUS Barack Obama received a glowing endorsement from Former Secretary of State Colin Powell, who described his policies as "solid." Watch the endorsement inside and see President Obama joke about why Donald Trump doesn't like him on The Tonight Show.
For the second time, Colin Powell (who's a registered Republican) endorsed POTUS Barack Obama saying, "I voted for him in 2008 and I plan to stick with him in 2012 and I'll be voting for he and for Vice President Joe Biden next month."
The former Secretary of State explained his endorsement on The Early Show saying,
"When he took over, the country was in very very difficult straits. We were in the one of the worst recessions we had seen in recent times, close to a depression. The fiscal system was collapsing. Wall Street was in chaos, we had 800,000 jobs lost in that first month of the Obama administration and unemployment peaked a few months later at 10 percent. So we were in real trouble. The auto industry was collapsing, the housing was start[ing] to collapse and we were in very difficult straits. And I saw over the next several years, stabilization come back in the financial community, housing is now starting to pick up after four years, it's starting to pick up. Consumer confidence is rising."
He continued,
"So I think generally we've come out of the dive and we're starting to gain altitude. It doesn't mean we are problem solved, there are lots of problems still out there. The unemployment rate is too high. People are still hurting in housing. But I see that we are starting to rise up. I also saw the President get us out of one war, start to get us out of a second war and did not get us into any new wars. And finally, I think that the actions he's taken with respect to protecting us from terrorism have been very, very solid. And so I think we ought to keep on the track that we are on."
Have you already decided on your vote?
Watch the video here:
Also in politics.......
If you have ever wondered why Donald Trump seems to have it in for President Obama, all questions were jokingly answered last night on The Tonight Show. The President was asked by Jay Leno if he knew where all this tension came from and the answer will make you laugh. Watch it above.....
The Randomness:
1. Jesse Jackson arrested during protest. Story.