Rihanna CROWNED The Queen of West Hollywood, PARTIES With Chris Brown & Evelyn Lozada At Her Halloween Party
Nov 01 | by _YBF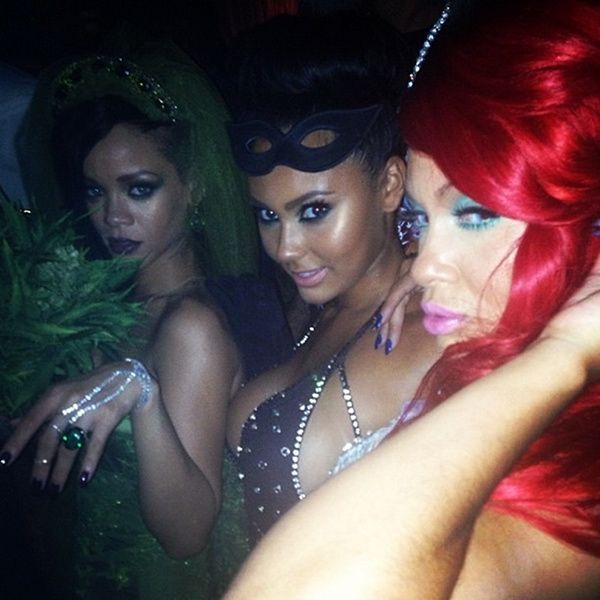 Pop star Rihanna was crowned the Queen of the West Hollywood Halloween Carnaval yesterday during a ceremony and Halloween bash attended by Chris Brown and Evelyn Lozada. See the celebs in their costumes and watch Rihanna's acceptance speech inside.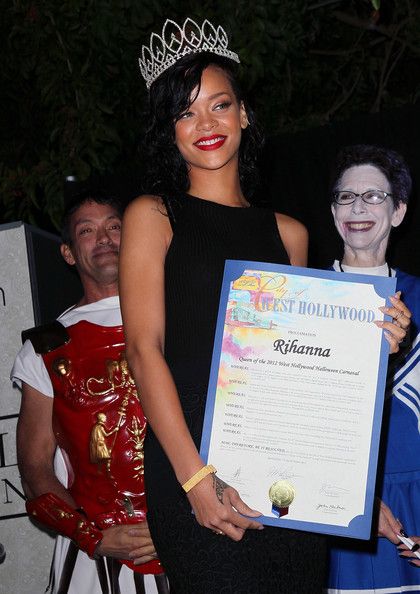 Last night, pop star Rihanna was named Queen of the West Hollywood Halloween Carnaval by the City of West Hollywood. During her acceptance speech, she said, "Thank you so much. I feel really special. I do feel like a queen right now. This means a lot. I'm not from this city so it's big deal to be honored by the Gay and Lesbian community. I will make you guys proud. I'm very excited to be welcomed and accepted."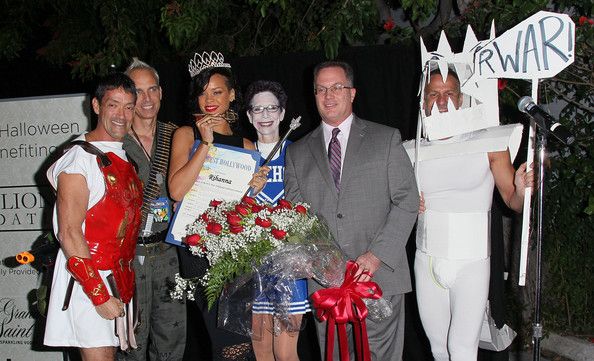 She was presented the honor by West Hollywood Councilmembers John J. Duran and John Heilman, West Hollywood Mayor Pro Tempore Abbe Land, West Hollywood Mayor Jeffrey Prang and West Hollywood Councilmember John D'Amico at Greystone Manor Supperclub.
The good news couldn't have come at a better time as Rihanna was dealt a crushing blow overseas with the cancellation of her UK show "Styled To Rock" due to poor ratings.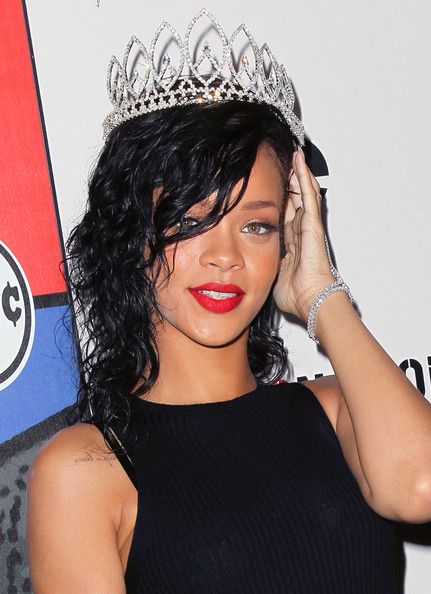 In the meantime, the success of her "Diamonds" single and the release of Unapologetic (Nov. 19th) should keep a smile on her face.
After the ceremony....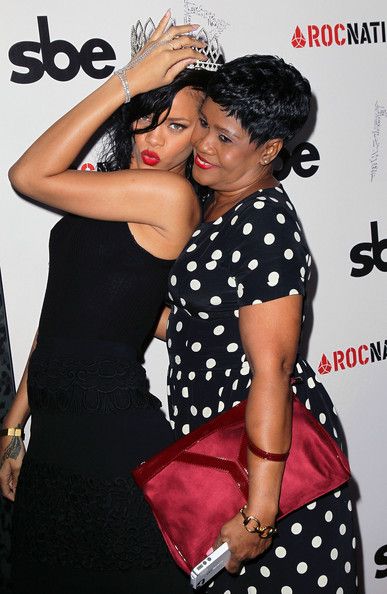 Rihanna got a surprise visit from her mother Monica Braithwaite.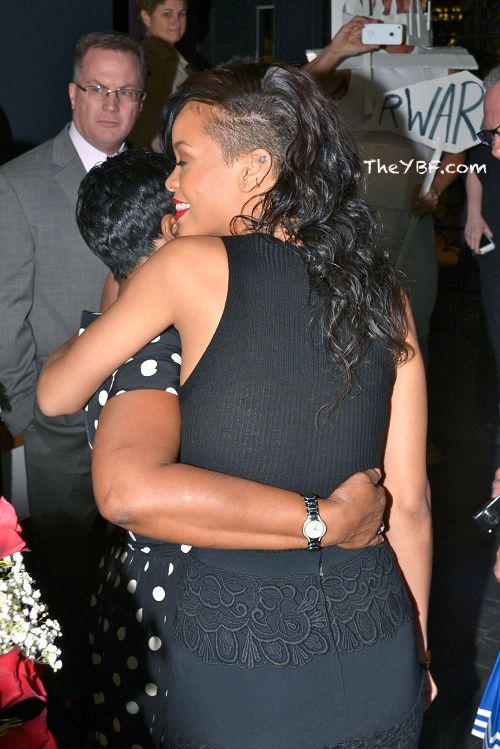 Awww a "proud parent" moment.
And after the ceremony......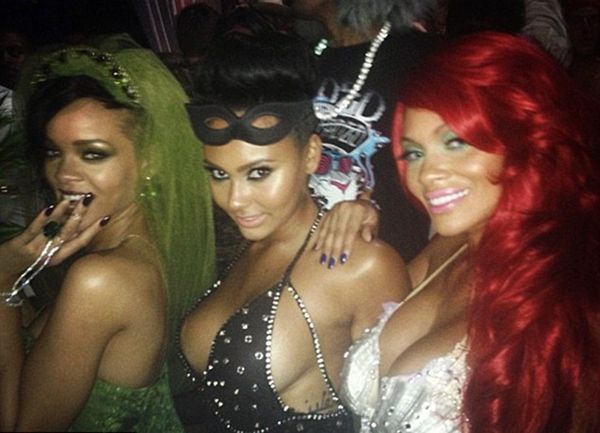 Rihanna donned a green wedding-like dress and veil and partied it up with "BBW" star Evelyn Lozada and her daughter Shaniece and Shaniece's new boobs at the Halloween bash thrown in her honor at Greystone Manor.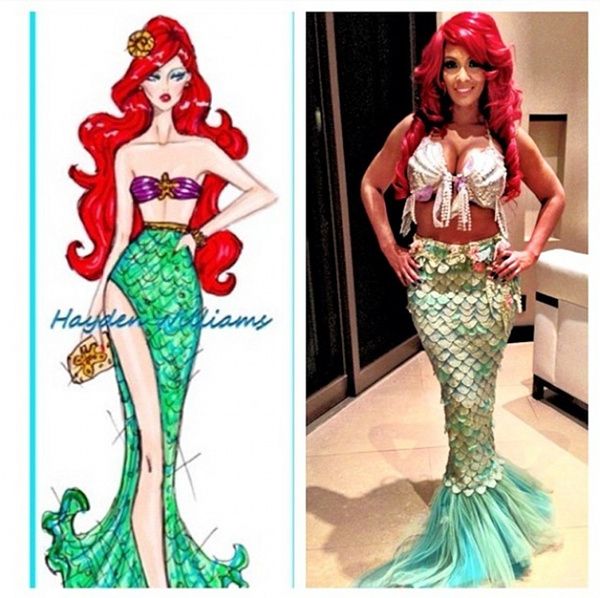 Evelyn dressed as a 2012 version of "Ariel" from 'The Little Mermaid' in a gown designed by Hayden Williams.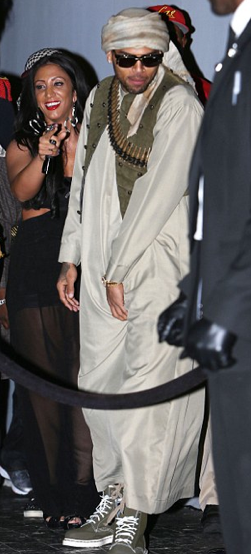 But the most shocking costume of all belonged to Chris Brown who dressed as an Arab man with ammunition and thawb. Earlier, he wore a long fake beard which he removed inside the party.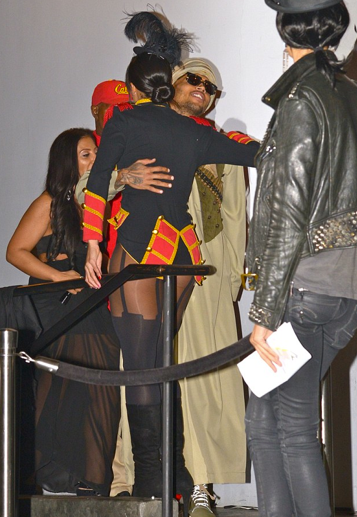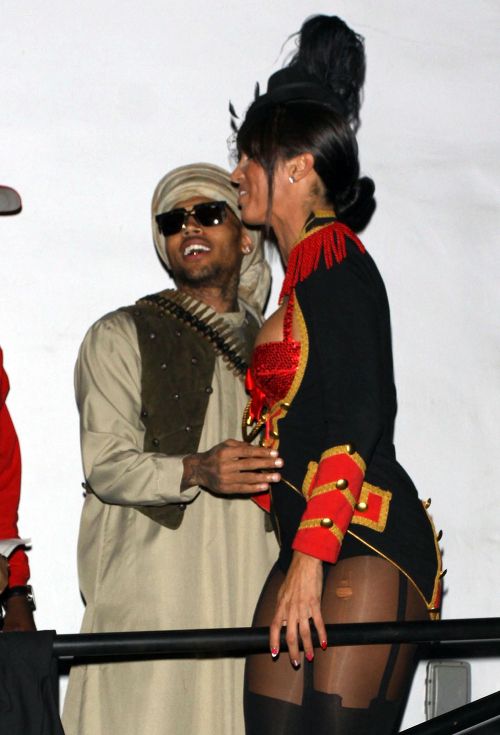 He was quickly greeted by female admirers, including one dressed as a ring master.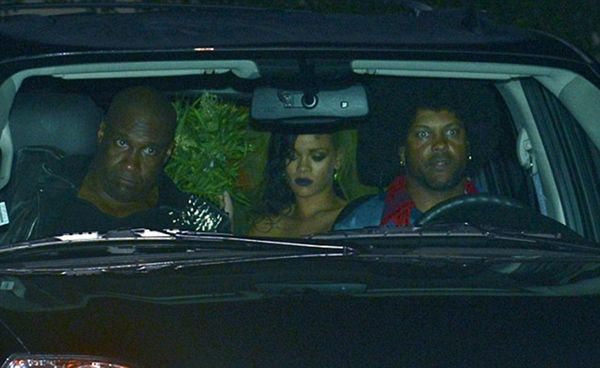 At the end of the evening, Rihanna was seen leaving the party in her costume (and her bodyguards where dressed up too).
Watch Rihanna on the red carpet and her acceptance speech here:
BONUS:
As he preps for the release of LUDAVERSAL, Ludacris is back with an uptempo dance track featuring Usher & David Guetta called "Rest Of My Life." Produced by David, the track has that "universal club" feel that has sent so many of David other songs to the tops of the charts. Luda surely has a hit on his hands. The song will appear on LUDAVERSAL which is expected in early 2013. Meanwhile, "Rest Of My Life" is available on iTunes Friday, November 2nd.
Photos via WENN/ULUV/Splash News/ David Livingston/Getty Images North America)