Jay-Z Set To Perform For President Obama's BIG Final Rally, Escapes From Sandy To Swanky Upper East Side Hotel With Beyonce & Blue
Nov 02 | by Natasha
Jay-Z has signed on to give President Obama's final campaign rally a huge push. Get the deets inside, plus how he and his wife & baby girl jetted to a 5-star hotel to escape Superstorm Sandy...
Hov is giving President Obama another big push on his final day of campaigning. Jay, along with Bruce Springsteen, will perform at O's final rally in Columbus, Ohio on Monday (Nov. 5th). This comes after The Carters hosted a $4 mill fundraiser for the Commander-In-Chief.
Other celebs stomping on the final campaign trail--Stevie Wonder, Marc Anthony and Gabrielle Union all joined First Lady Michelle Obama in Florida yesterday. And Dave Matthews Band is rocking out in Bristow, VA on Saturday with the Prez & Former Prez Bill Clinton.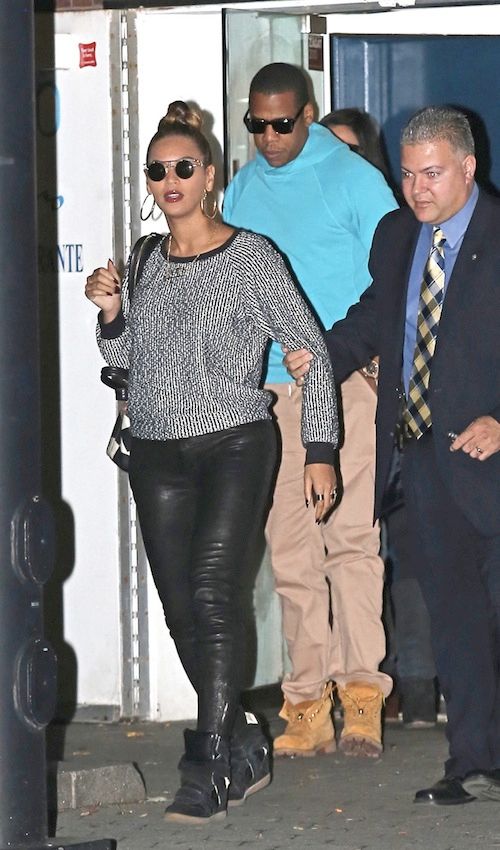 And being a celeb has its perks. The Carters nabbed up a room at the uber swanky Mark Hotel on the upper east side of NYC this week as Sandy wrecked havoc on the tri-state area. Hotels in the whole city have been completely sold out all week.
The fam had to leave their lower Manhattan Tribeca home as the entire lower half of Manhattan--beneath 40th street--lost power and steam. Even running water in some places.
So the twosome joined a slew of other stranded celebs at the same hotel--their Trbeca neighbor Anna Wintour, Marc Jacobs, Russell Crowe, French Vogue editor Carine Roitfeld and more.
They also hit up a Halloween party to lift their spirits (in case a cushy suite wasn't enough) on Wednesday at Cipriani 42nd St. Dita Von Teese hosted and Russell Crowe tweeted:

Must be nice...
By the way, check out The Carters on EBONY's 2012 Power 100 list. Congrats to all!