Rihanna's Sexy 2012 GQ Outtakes, Talks Turn-Ons & Lame Music
Nov 13 | by Natasha
After posing on the Men of the Year 2012 GQ cover in literally nothing but a cropped leather AllSaints jacket draped over her shoulders, Rihanna had the internet in a tizzy yesterday. Now, check out the equally sexy outtakes and a few highlights from her cover story inside...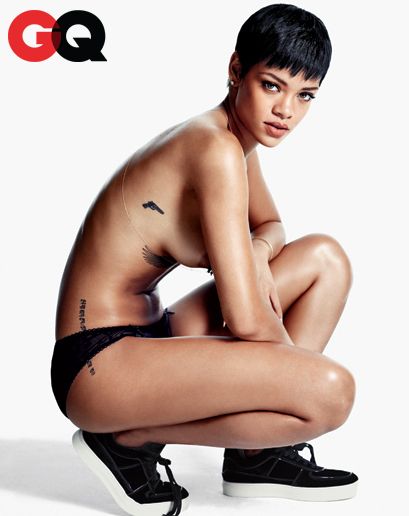 She's got a slim and curvy bod that even gives the straightest of chicks a little quiver, and she loves to show off her chi chis with that new breasticle tattoo of hers. So it's no surprise Rihanna's wearing next to nothing and giving all kinds of side-boob action (in Stella McCartney panties and Alejandro Ingelmo sneakers above) in her newest GQ shoot. By the way, she's the first woman to cover the Men of the Year issue. Check out the highlights and outtakes below:
On sticking to her artistic vision
"Sometimes a person looks at me and sees dollars. They see numbers and they see a product. I look at me and see art. If I didn't like what I was doing, then I would say I was committing slavery."
On her highly sexual personality
"That comes from my culture. That's just the way it's always been, and I think that for people, especially in America, they make it like the forbidden fruit, but that only makes kids more curious....I was a lot more naive about the way I moved and the way I was being perceived. The more you hear people talk about 'Oh, you're a sex symbol,' it just makes you think, 'Why are you saying that?' And I figured it out."
On what turns her on
"I like to feel like a woman. I have to be in control in every other aspect of my life, so I feel like in a relationship, like I wanted to be able to take a step back and have somebody else take the lead."
On not making lame music
"I want to make music that's hopeful, uplifting. Nothing corny or supersentimental. I just want it to have the feeling that brings you out of whatever you're going through. I want it to spark that fire. I want it to be real, authentic, and raw."
On that Drake & Chris Brown club fight

"There's no proof of that being for my love. That's my answer to that question."

And an interesting first hand account from the GQ writer who was with Rihanna (for the evening-long interview) at the Griffin nightclub back in October--when both Chris & Rihanna were starting to take their flirtations public:
Chris Brown brashly stands on top of his bench in the neighboring booth. He and Rihanna start tossing flirtatious glances like kids passing notes in middle-school math class. The smirks and the playfulness continue until they're dancing with each other from afar. Then, out of mock frustration, Brown climbs over the top of the booth. A mischievous tingle of controversy vibrates through the club.

Check out the full story HERE.

More outtakes:
Shiesser panties from Opening Ceremony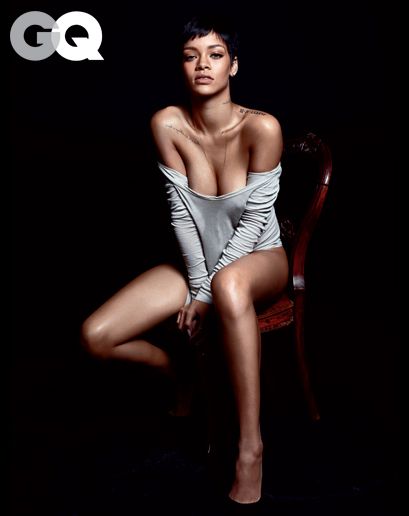 Cosabella panties, Manolo Blahnik pumps and a Rick Owens top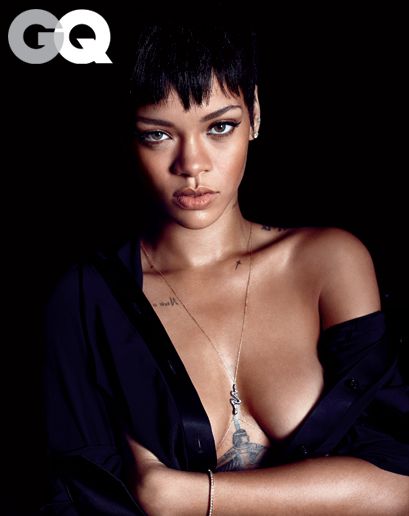 Shirt, Givenchy by Riccardo Tisci at Barneys New York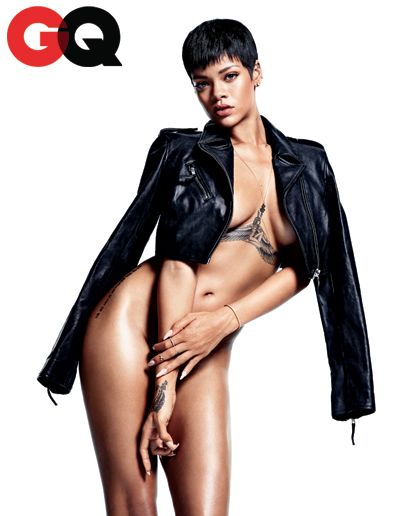 AllSaints jacket and Cartier bracelet
Photographs by Sebastian Kim, Mario Sorrenti / GQ