SAD NEWS: Drake Loses His Grandmother On Thanksgiving
Nov 24 | by Natasha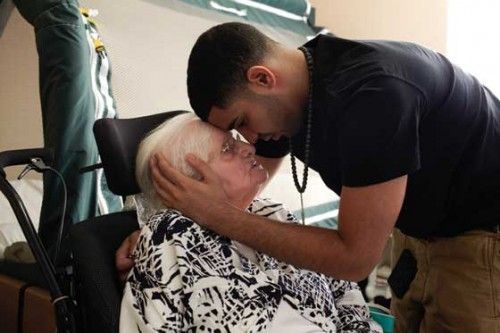 Drake's Thanksgiving was indeed a sad one. The emotional rapper lost his grandmother, Evelyn Sher, who he often speaks on being very close to. Details inside on what Drake had to say about her passing...
The "No Lie" rapper took to Twitter recently to tell his fans some sad news in his life. His maternal grandmother, Evelyn, passed away on Thanksgiving Day. He revealed:
"Rest in peace to my grandmother Evelyn Sher. What a day to go...thankful to have had the times we did."
He mentioned her plenty of times in his songs. And once even turned over the mic to her as she was recorded giving him a message, which was used on his "Look What You've Done" track off his latest Take Care album:
All I can say Aubrey is, I remember the good times we had together and the times I used to look after you and I still have wonderful feelings about that. So God bless you, and I hope I'll see you."
And it seems like Drizzy may harbor a little guilt over not tending as much to Ms. Evelyn these last few years. He rapped on his "The Resistance" track back in 2010 (Thank Me Later):
"I heard they just moved my grandmother to a nursing home/ And I be actin' like I don't know how to work a phone."
Our condolences to Drake and his fam. R.I.P.