BACK TO SCHOOL: Halle Berry DROPS Nahla Off At School, Olivier Martinez LEAVES Hospital With A SPLINT + Were Gabe And Halle SECRETLY Married?
Nov 27 | by _YBF
Halle Berry was seen taking her daughter Nahla to school yesterday in LA. See the photos inside and find out how Olivier Martinez is doing following his showdown with Gabriel Aubry. Also, get the deets on Gabe referring to Halle as his "ex-wife" in court docs inside.....

Following the messy brawl between her ex-boyfriend and fiance (and a slew of restraining orders), Halle Berry was seen helping daughter Nahla (shown at the top) out of a van at her school yesterday.
Then....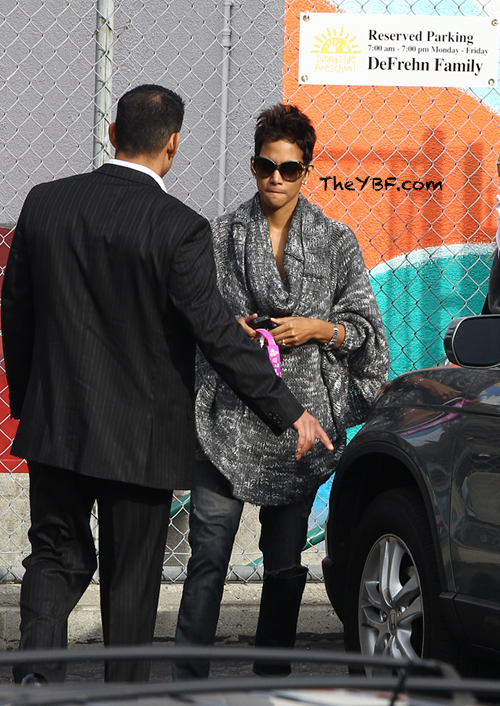 After dropping Nahla off, Halle was seen walking back to her own vehicle with the headphones Nahla had been wearing. She likely used the headphones to block out the outside noise of photographers shouting things at them.
And in other developments, more details have emerged about the brawl (through Gabriel's description of what happened in the court docs he recently filed). According to Extra, Gabe mysteriously refers to Olivier saying "Respondent is the fiancé of my ex-wife, Halle Berry." WAIT! Was there a secret wedding that we missed!
You'll recall that Janet Jackson was married many for years and we only found out AFTER her ex-husband Rene Elizondo got pissed and starting spilling their business. Could this be a similar situation?
In the remainder of the documents, Gabe says that Olivier swung first, told him to move to France it he wanted to see Nahla AND threatened to kill him.
Messy.
UPDATE: TMZ reports that Gabe simply made an error when filling out his court docs. He have NEVER been married to Halle Berry.
And over at the hospital....
Olivier Martinez was seen walking out of a hospital in LA with a splint on his hand. When asked by reporters how he felt following his brawl with Gabriel Aubry he said, "Fine."
Photos via INFPhoto