NeNe Pops Back At The HATERS & Asks Why Blacks Support Kim K. & Not HER + Amel Larrieux Preps A Comeback...With Groove Theory?
Nov 28 | by Natasha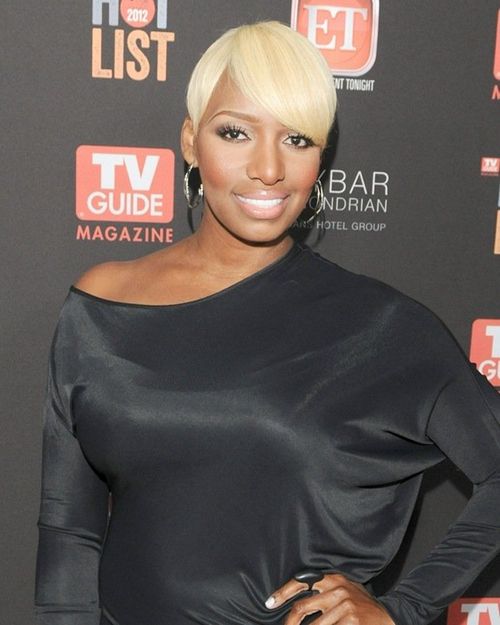 NeNe Leakes has some words for the haters...especially those who are quick to support someone like successful-from-a-sex-tape chick Kim Kardashian, but completely critical of NeNe's talents & career.
Check out how she's calling out the black community, plus, how the talented Amel Larrieux is prepping for a comeback...
"Real Housewives of Atlanta" star NeNe gave a telling interview to The Daily Beast about the hate she's received after covering the Power Issue of EBONY magazine. Whether it was the fact she was being recognized as "powerful" or the pic of her in a tub of diamonds some called tacky--everybody had an opinion.
But the reality star let none of it get to her, an actually called folks to task for supporting sex-tape-comeuppance-publicity-hungry star Kim Kardashian....but not NeNe:
"It's true and I know you've heard it a million times, [African Americans] just don't support one another," she says. "But it's OK for you to go pick up a magazine cover with Kim Kardashian. She's my girl. We are cool. We talk. We do drinks and all of that. But her story ain't no different than mine. You know what I mean? I might've worked at the strip club, but she made a sex tape."
NeNe also explained that the flack she caught for making EBONY's Power Issue cover, came mostly from the African American community. But she's not letting the hate stop her one bit:
"I absolutely deserve to be on the cover...This cover is about money, power, and respect. And it's about a come-up story and I'm the one that had that story this year … Not only did I come out as a reality star that was very boisterous and vivacious and outspoken and all those things. I flipped that into money and respect. And a lot of people can't do that.

"But listen to me, definitely all of the negative feedback definitely came from my own; African Americans were the ones that were the most negative," she continues, adding, "And it's so funny to me because I would call [the editor] over at Ebony and she would say 'Girl please, glass houses. That's all it is. They don't want to see you on the cover, they don't really understand the reason why you're on the cover, they don't know your story.'"

We must say, chick has a few great points. With her stints on hit tv shows "Glee" and "The New Normal," it's clear she does have actual talent as an actress. And at some point, folks will possibly respect that and will not call her a famous for nothing chick with no talent--like some other people we know.
Check out The Daily Beast for the full interview.
And speaking of chicks with actual talent, Amel Larrieux is prepping for a comeback. To push her current series of intimate concerts at NY's Blue Note Jazz Club (snapped above performing last night), Ms. Larrieux chatted up HuffPost's Black Voices about what she's been up to. And if we can expect another Bryce Wilson hook-up for a Groove Theory reunion.
Is there a firm date set for the release of [your new solo album] "Ice Cream Everyday"?

Well, we almost regret when we give a release date, because one of the nice things about being independent is having the luxury of not really having deadlines. We make our own deadlines and then we break them all the time, because in the end, the finished product has to be something that we can really get behind. This time around, it's just been a lot of editing and changing our minds and things like that. We didn't want to have a disjointed product. So I won't give a date anymore. I won't ever do that again. [Laughs]

What are your thoughts on today's crop of R&B singers?

I probably don't listen to what you would consider "straight R&B." It's really weird because I feel like those lines have blurred a lot. I remember when Usher was "R&B," but now he's considered "Pop," but that's only because of what "popular" is, so I don't know. For me, R&B is about Rhythm & Blues, so that would be a soul kind of singer. Though she is not commercially successful, I think Georgia Anne Muldrow is the best thing that has happened in the last decade. Her voice is R&B to me. But I don't necessarily run into what would be considered mainstream R&B, but I don't run away from it. When Drake sings to me he's R&B, and I like Drake.

Do you feel that's one of the challenges in releasing a new Groove Theory album?

The only reason we haven't done anything is because we would like to be offered a good situation. So far, the offers that we've had aren't what we're looking for, because we both have other careers and stuff. For me, I'll always write what I'll write, but I would be interested in letting someone else write something for me [for a Groove Theory album], and I'm sure Bryce would let someone else produce something if the label thought it would be beneficial for us.

That has been the luxury of having my own independent career independent from the group. Where it's like, I can do all of my things on my own and then go back to Groove Theory ... If someone is giving us a chunk of money then yes, they do have a say over how you should do things, which is the reason why I left a major label, I wanted to make my own decisions. But yes, I would be open to doing something more radio-friendly. And if I don't like something, I'll be the same girl who argued with her label before. [Laughs]

Have you and Bryce recorded any new material?

No, not Groove Theory wise. Almost two years ago Bryce and I did five nights in Tokyo, and this past summer we performed at the Blue Note Jazz Festival at Summer Stage. So we've done live stuff, but we're not recording. He moves around a lot because he's still pursuing his film career, so we're not always in the same place. But it's been nice to have the opportunity to go out and do live stuff. It's a great way to have a second life.
Loves her. We would love a Part 2 of "Tell Me" any day now. Just sayin'....
Check out the full interview HERE.