Rick Ross FLIPS THE FINGER As GQ's "Bawse Of The Year"
Nov 28 | by Natasha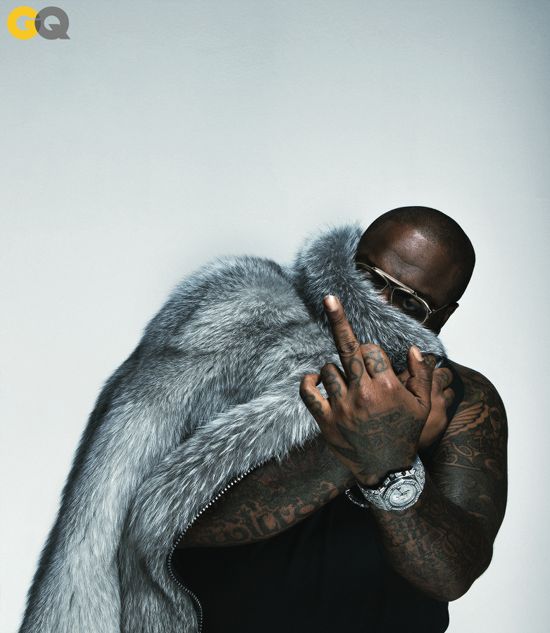 Rick Ross isn't just the biggest bawse in the industry, he's BAWSE OF THE YEAR in GQ's new Men Of The Year issue. Check out Ricky showing how he feels about his new title and more inside...
GQ's December Men of the Year issue is all about the men (and women) who inspired, entertained, and excited folks the most this year. And Ricky is one of the year's biggest "power-players" as "Bawse of the Year".
The Maybach Music Group founder, who's been killing 2012 with albums, mixtapes and tours for the whole label, served up a flip-worthy pic and his thoughts on it all:
Rick Ross on 2012 and on being named the 10th most powerful man in hip-hop by The Source: "It's been a power-player year. …I'm the typa dude who feels like he could take number two next year."
On advice he has for readers: "One, for Christmas go get yourself an MMG tattoo. Two, let's all stop smoking blunts; let's smoke out of papers."
Additional advice to women: "Ladies, you all should just love me. Let's all have a beautiful year, let's get this money."
Ricky and his productive advice. The issue is on stands now.
Photo credit: Christian Weber / GQ
The Randomness:
1. Wendy Williams is being accused of not paying her $400,000 shoe bill to a shoemaker. And now the owner of the holding company is in hiding after a manager of the shoemaker company was kidnapped over their own unpaid bill! STORY
2. President Obama & Olympian Gabby Douglas are in the running for TIME's Person Of The Year. STORY