Kenya Moore DISHES On SKIN Probs And Drama With Porsha On "WENDY" + Azealia Banks Rocks ASOS' "FASHION UP"
Nov 29 | by _YBF
Azealia Banks stars in the new ASOS Christmas campaign and covers their "Fashion Up" January 2013 issue. See the pics inside and watch tv's newest reality tv diva Kenya Moore (looking stunning in yellow by the way) chat with Wendy Williams about everything we've been wondering about....

Kenya Moore stopped by "WENDY" this morning to dish on her love life, her RHOA fights and about Wendy shading her about her skin. Last week, Wendy made some comments about Kenya wearing a lot of makeup to cover up her "bad skin," and Kenya admitted to having breakouts sometimes. But honestly, chick is absolutely gorgeous with a bangin' body so if that's people's only complaint...
When Wendy asked her how she felt about being described as a mean girl, Kenya said "I can say this, I don't play for the cameras. What you see is who I am, but I have to say I think the mean girl reputation is not deserved." Really? She added that she would never tear another black woman down. Aside form those "Coochie Crack" screams...
She did reveal her distaste for fellow castmate Porsha Stewart. And can we blame her? Kenya threw a few verbal jabs at Porsha about being naive but the big kicker was when she said she felt Porsha was single handedly ruining the legacy of her grandfather, civil rights leader Hosea Williams. Oh, and that Porsha is playing the 20-something card when she's actually 31. Womp.

Kenya added that while Porsha is riding the coattails of her husband and her late grandfather, Kenya herself is a girl from Detroit who built herself from the ground up. "Some people work for a living, and some people twerk for a living." DOUBLE WOMP.
Wendy also talked about the "possible" storyline of Kenya trying to make a move on Phaedra Parks' husband Apollo. Of course, Kenya didn't reveal anything, but she did encourage fans to stay tuned and to NOT believe what Phaedra's been saying.
Watch the clip above with Kenya telling Wendy to check her roots to prove she's rocking her real hair.
In other interviews.....
We told you previously about Twitter-beefing rapper Azealia Banks hooking up with ASO,S and now we have the remaining final photos from her "Fashion Up" cover shoot and Christmas campaign for the clothing company (one of our faves). "Fashion Up," an entertainment mag available for download on the iPhone and iPad, caught up with Azealia as she finishes her debut album and talked about her music, her fashion and how she created her image. Here are the highlights:
On her album:
"I'm taking a lot of risks with this record, but music is so personal. I'm nervous, I'm excited, and there's this crazy adrenaline. I'm sleeping in the studio, I have knots in my throat and I'm so anxious, I'm a nervous wreck."

On the fashion industry:
"I feel like it's created this thing for me to stand on that I didn't even intend to have as a musician, but when it's time to make your album, you make your album"

On success:
"Sometimes I feel like I float in an out of different personalities. As a kid, I was a big thinker – I was always daydreaming of being rich. Its kind of weird, I feel like I've willed this life. I feel like I've done enough work and enough music and now Azealia Banks is a name. I'm not just some up and coming person. I feel I can do anything right now, with concentration, will and hard work."

On her stage outfits:
"I would say I'm fashionable, but I'm not a fashion queen. I don't really think about it too much. I have a friend in New York who I'll give $5,000 and she'll come back with loads of stuff for me to try on. But the last thing I bought myself were these sparkly Miu Miu shoes that I picked up in Hawaii. Sparkly glitter shoes!"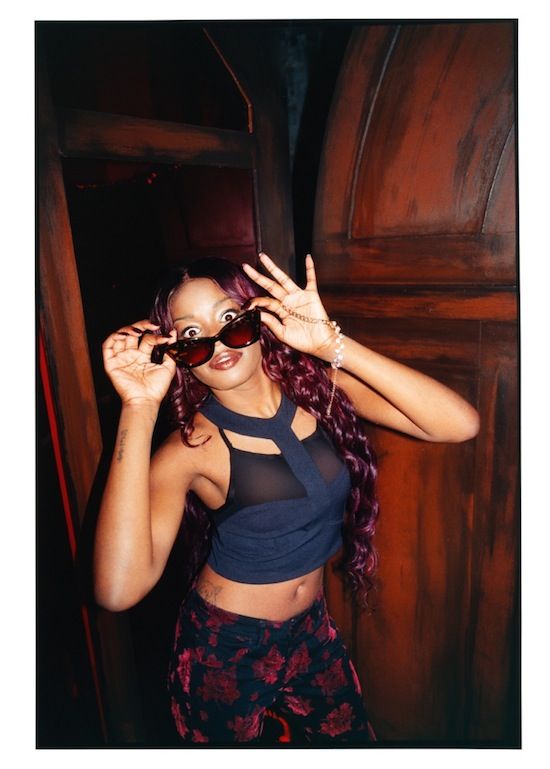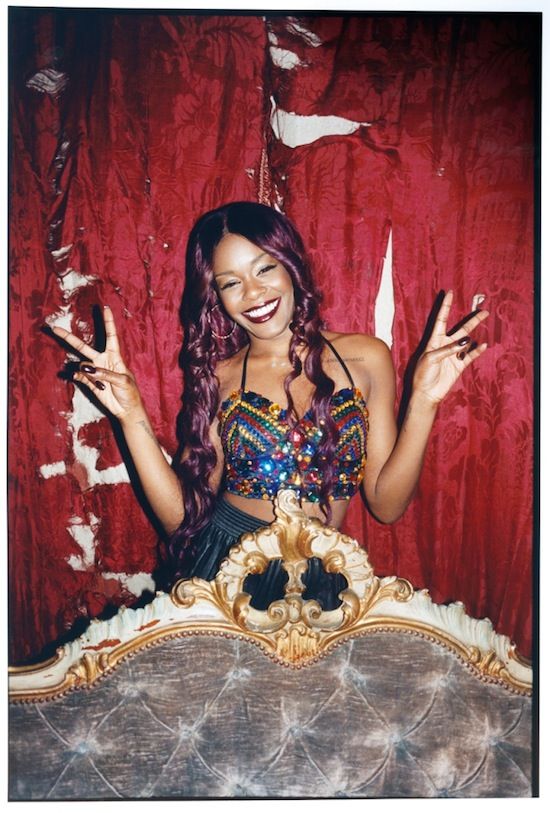 Azealia stars in the ASOS #bestnightever holiday campaign with singer Ellie Goulding and model Charlotte Free.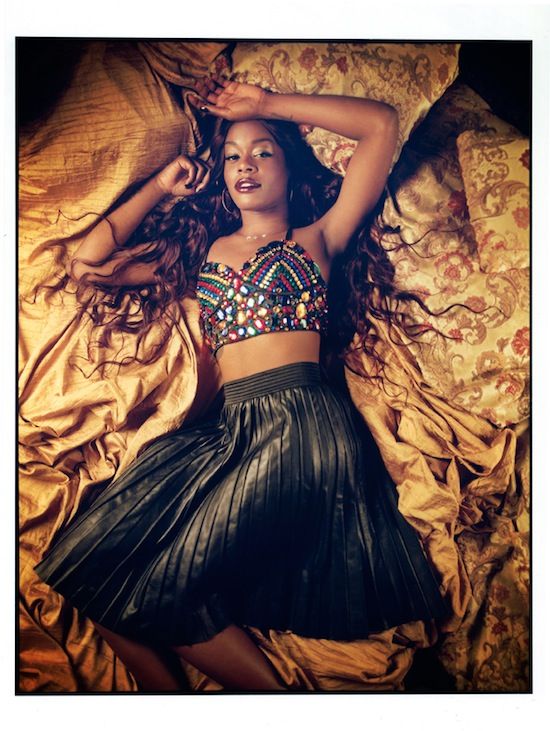 Loves it.
BONUS:
Singers Jordin Sparks and Jason Derulo sat down with Wendy Williams for their first interview as a couple yesterday morning. The adorable pair talked about how they met and revealed it wasn't love at first sight. Jordin said, "We both did a show in Bahamas last year…and it was awesome but we met each other before but we just saw each other in passing. He invited me to the after party." And from that moment, sparks began to fly.
Jason revealed that he just bought his huge dream home in Miami and Jordin will def have a place for "her things" there. Not mad at that.
Jordin also touched on a special moment with Whitney Houston on the set of Sparkle where the legendary diva offer her words of encouragement that made her burst into tears. Watch the clip above....
Photos via Tyrone Lebon