Wiz Khalifa DISHES To The Breakfast Club About PREGNANCY SEX And How FATHERHOOD Has Changed Him
Dec 05 | by _YBF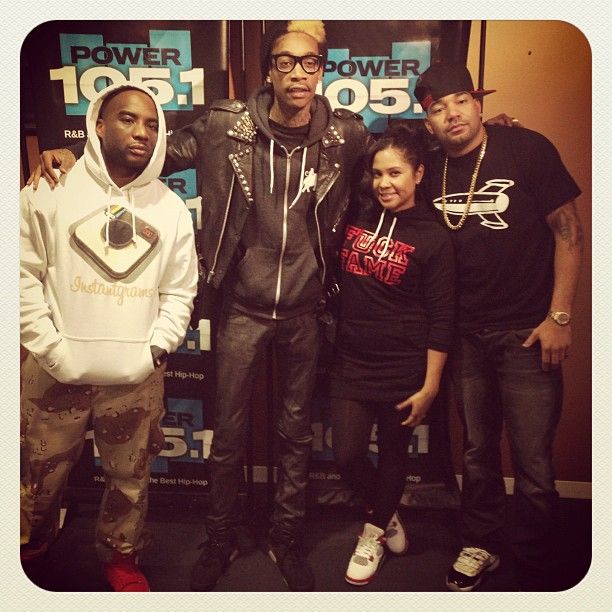 Daddy-To-Be Wiz Khalifa dropped by the Breakfast Club this morning to promote his O.N.I.F.C. release, and talks about getting married to and sexing his fiancee Amber Rose. Deets inside....
Earlier today, Wiz Khalifa stopped by Power 105's The Breakfast Club to chat it up about his music, his upcoming nuptials and his success. He talked about the album's title (Only N*gga In First Class) and revealed that most of the time he finds that he's still the only Black man in first class on his flights. And he said he's treated differently while flying because of his tattoos and the smell of weed. Ha. He also said that he also struggles with pleasing his hardcore fans, who've been with him through the beginning, and his new "radio friendly" fans.
When it comes to beef, he said he has no hard feelings towards Chief Keef (who stood him up on a video shoot). ,He revealed that The Weeknd didn't appear in the video for the song they did together because The Weeknd's camp wasn't so sure that working with Wiz was a look they wanted for their client.
On a personal level, he told the hosts that he and Amber are getting a new home in LA because they need more space. He then gave up all the goods saying that he loves pregnancy sex and how Amber's body is a lot more sensitive. Also, he conformed they'll get married before the baby comes and have a ceremony after the birth so Amber can wear a nice dress and get drunk! Of course.
And when it comes to the wandering eye, the "Work Hard Play Hard" rapper said both he and Amber as so "committed" that they don't look at other people. He added that they don't watch porn OR make porn either.
Watch the interview here: