STILL AROUND: Marlo Hampton Flaunts Her Fashion In DENIM Magazine's Holiday Issue
Dec 17 | by Natasha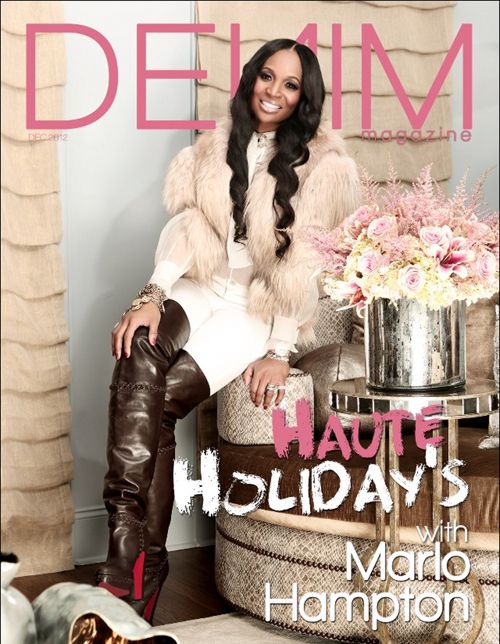 If you thought we saw the last of Marlo Hampton when she wasn't asked back for this new season of "Real Housewives of Atlanta," think again. Chick is putting her flair for fashion on full display in the winter issue of DENIM magazine's Holiday issue. And she's revealing her most expensive bags and where her love for fashion began. But remains mum on how her obsession is funded...
Covering the DENIM issue in thigh high Louboutin boots and a fur shawl and hair laid by Miss Lawrence, Marlo Hampton is giving you fashion heads some tea to sip on. Nope, we still don't know how someone affords every single high fashion and couture item that hits the runway every season when she doesn't have a job (outside of being rumored to be sponsored by one or more old rich sugar daddies).
But I guess we'll overlook just how someone--with a record of several arrests and writing bad checks--can afford a certain lfestyle and simply take in what they have to offer. And we must say, chick should consider creating a line or styling her fave ATL friends. Many of them could use her touch.
Inside the issue, Marlo rocked the black version of the Tom Ford zipped back dress with sexy Giuseppe Zanotti glod and black sandals.
And our fave look, this two-piece Versace beach-inspired citron & cream crop top and pencil skirt. And she paired the look with red Pigalle Plato Spiked Patent Leather Pumps. And Versace & Chanel gold accessories. Gorgeous look
We love her style. The Chanel and Givenchy loving socialite did a Q&A with the mag about her fashion loves, her fashion bible, and whether she would gift her future daughter with a Birkin:
So what or who made you love fashion as a teen?

"As a teen I was in and out of foster care; so having the best fashion was something that seemed unattainable. I didn't win Best Dressed, but I understood at an early age I couldn't afford certain kinds of clothing when I was growing up. But, what I do remember about my mother was that she loved nice things. At times, when we did get clothes; we would get them from a second hand store. And she always kept us clean and extremely polished.

What designers can you not live without?
"I think this may be sort of obvious, and a little birdie might have let you know... all things CHANEL. I am very partial to their clothes because CoCo Chanel was an Orphan. I can relate to that. She didn't have parents to raise her, but look at what she's overcome. Her story reminds me of mine. She had humble beginnings but Chanel is the Queen of Fashion, all of their pieces are classy and timeless!

What designer would you want to collaborate with on a collection? Would it be high end or price friendly?

"I would love to work with the designers of J. Crew. Their pieces are simply stunning and they have a good mix of everything. Our collection would be what I call "Fashion Affordable." Nice pieces, for an affordable price, with great style, trend but quality material. There would be something for everyone. We all deserve a piece of Marlo."

How many handbags do you have?

"Now that is a tough question. I haven't counted, but I do know too many for sure ... actually, I take that back; a girl can never have too many bags"!

What is the most you have ever spent on a bag or was gifted?

"I am always working on my etiquette, lol and a lady never tells prices unless you want to buy one yourself. However, my crocodile Hermes Birkin is my most expensive handbag"!

What fashion accessories does a women need to be fabulous?

"The one accessory that EVERY women needs to be Fabulous is CONFIDENCE. it's the one accessory that's Priceless. Money can't buy it and as long as you wear that; nothing else matters"!

Would you ever give your daughter or son a Birkin bag?

"I would absolutely gift my daughter one under one condition, that it was EARNED! A Birkin is way too expensive just to "give" so if she earned a college degree, was getting married, or achieved a milestone in her life worthy of such a nice bag"

Every woman deserves at least one nice bag whether it's a Birkin or another bag of their choice.

Have you ever seen other girlfriends' collections of shoes or bags and felt I have nothing on theirs

"I don't covet anyone's achievements or closets! Lol! I applaud all women who are enjoying their luxuries and if they have great taste, then we need to go in to their closet and play dress up with a glass of wine and have a good time"!

Last year, you took one of your best friends Daniel/stylist/ assistant to Paris for Fashion-Week. Tell me how was it to do that for someone else who is as passionate as you are about fashion?

"It was amazing and truly rewarding for both of us. Being a lover of fashion, Paris Fashion-Week is something that is a must. I spent a week in London and then Daniel came over to join me in Paris for an additional week. We shopped until we dropped (literally) or until my cards daily limit was reached. lol. His eye for fashion is amazing; not having him accompany me in the fashion capital of the world seems absurd. We were treated like royalty and I can't wait to do it all again soon"!

I understand you gave 20 families turkeys along with meals through your Simply Giving campaign. What are you doing for Christmas?

"It's my way of "Simply Giving Back" to families during the holidays or a special time of the year. I was able to bless 20 needy families for Thanksgiving with a full meal and all the fixins. I will also be giving back during Christmas and recruiting my Glam It Up girls to show them what it means to give back and do good service at at a soup kitchen"

Like most other women around the world is Vogue magazine your second bible?

"Hmmm, while Vogue is an amazing magazine which I read monthly, I would have to say it's a fair toss-up between Harper's Bazaar and Elle. Let's just consider each publication as a different book in the fashion bible."

What was your first high-end buy?

"My first high-end buy would probably have to be a Gucci bag in college. It was very special at the time because I worked for it, saved my money and bought it!

Since we are in your closet right now give me one fashion secret that you can't live without?

"ELECTRICAL TAPE. It's an instant breast lift without surgery. Makes your Breasts look real nice and perky"!
Interesting answer about buying her daughter a Birkin if only she earned it. How ironic.
Here's some behind the scenes footage...straight from Marlo's closet.
Photographer: Will Sterling, Fashion Stylist: J.Bolin/Daniel Hawkins