VIDEO: President Obama Gives EMOTIONAL Speech At Vigil For Victims Of Sandy Hook School Shooting
Dec 17 | by Natasha
President Obama made his way to Newtown, Connecticut on Sunday to give an emotional speech at the vigil of the victims of Friday's soul-less shooting.
We have his full speech, and his promises to make REAL change, inside...
After visiting his youngest daughter Sasha at her dance rehearsal in Bethesda, MD on Sunday, President Obama made his way to Connecticut to visit the town who has been rocked to the core by Friday's school shooting at Sandy Hook Elementary.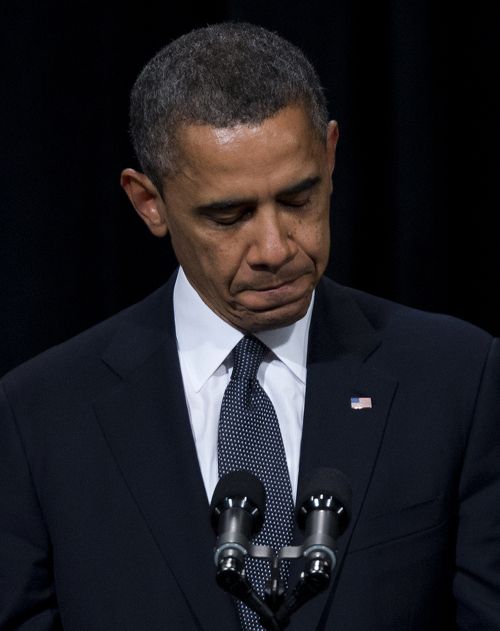 While families and friends of the 27 deceased children and adults grieved, our President offered words of comfort, prayer and promise. Especially where taking preventable measures are concerned. At the Interfaith vigil on stage at Newtown High School, Obama stated:
"We can't accept events like this as routine," he said. "Are we really prepared to say that we're powerless in the face of such carnage? That the politics are too hard? Are we prepared to say that the violence visited on our children year after year after year is somehow the price of our freedom?"

"If there's even one step we can take to save one child, or one parent, or one town from the grief that has visited Tucson, and Aurora and Oak Creek and Newtown and communities from Columbine to Blacksburg before that, then surely we have an obligation to try.
He promised to make a change with the growing gun violence in our country:
"In the coming weeks, I'll use whatever power this office holds to engage my fellow citizens, from law enforcement to mental health professionals to parents and educators in an effort to prevent more tragedies like this," he said. "Because what choice do we have?"
His full emotional speech is below:
UPDATE: Sandy Hook Elementary reportedly will be permanently closed.