FAMILY FAB: Kimora Lee & Kenzo Lee Hounsou FLYING OFF To St. Barth's + Ming & Aoki Lee GET FAB For "OK!" Magazine
Dec 20 | by _YBF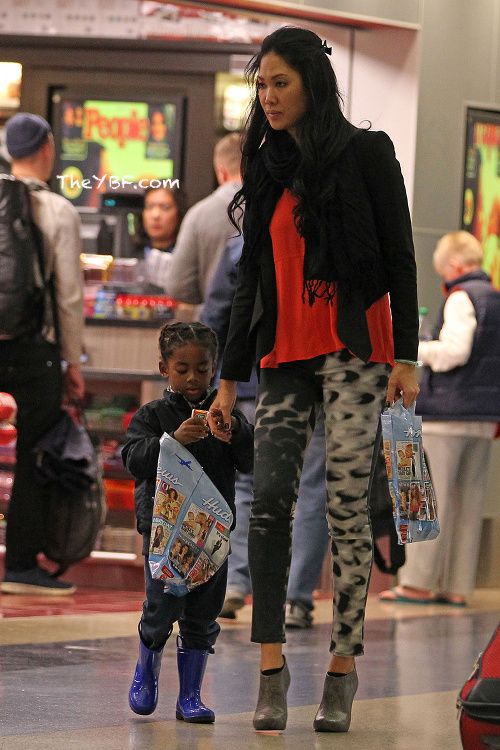 Kimora Lee Simmons and her son Kenzo Lee Hounsou were spotted at LAX before their flight out to St. Barth's yesterday. See them waiting for their flight inside and see pics from OK! Magazine featuring Ming & Aoki Lee's photoshoot.
After a morning stroll through The Grove with dad Djimon Hounsou, Kenzo Lee was spotted at LAX last evening with mom Kimora as they prepared to jet off to St. Barth's.
Kimora tweeted her ex-husband Russell Simmons to let him know that she and Kenzo were on the way to join him and their daughters Ming and Aoki Lee. She tweeted, "On our way!-> RT @UncleRUSH: Aoki Lee chillin n St Barths @OfficialKimora u C ur baby?! They cnt wait 4 u 2 come!"
We're sure the family will have a great time together.
And on magazine racks...............
Ming and Aoki Lee are featured in a photoshoot for the latest issue of OK! Magazine called "Hollywood's Cutest Kids." Inside, the sisters talked about their fashion sense. Ming said, "We have a sewing machine and we know how to drape and design our own clothes. We make our own stuff," She added that her inspiration come from style watching saying, "I like to go to the grove and see what people are wearing and how they style themselves."
And when Aoki was asked where she finds her inspiration she joked, "I like looking at clothes online. I can't drive yet so it's easier."
The issue is on stands now.