T.I. TELLS "ROLLING OUT" & "The Breakfast Club" How Prison CHANGED HIM & Why "Tiny" Is "THE ONE"+ Katt Williams EXPLAINS Why He SLAPPED "Target" Employee
Dec 20 | by _YBF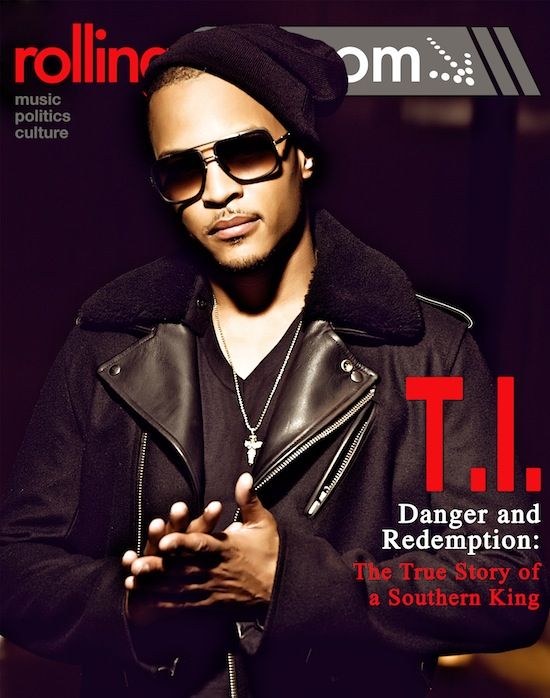 During two different interviews, rapper T.I. covers ROLLING OUT Magazine and speaks to The Breakfast Club about the impact of prison had on his life and what his wife Tiny Harris means to him. See the highlights inside and hear Katt Williams side of the story about slapping a Target store employee.
T.I. is one rapper who has been through many challenges before the public eye as a rapper, tv personality and prison inmate. While speaki to ROLLING OUT and The Breakfast Club, he tries to explain how things he's gone through have impacted his family, his music and the way he lives his life today.
During a very candid interview with ROLLING OUT, he spoke about the moment he realized that wife "Tiny" Harris was the one for him, how prison changed him and cleared up misconceptions about black youth choosing the jail system over college. Here are the highlights:
On how he was affected by prison:
When I went to prison in 2009, I had so much resentment for the system. When you're in a certain element, you can exercise certain strengths. But when you place me in a jungle and it's all about survival, I'm going to have tp posture myself in a way I'm fit to survive. By the time I came out of prison, my mind-set was different from when I went in. Prison did me no good. But personally, I regressed completely.

In certain neighborhoods, do you think that more respect is given to those who went to jail when compared to others who went to college?

That's a misconception. I think white folks put that out there because they want us to feed off that. I grew up in Bankhead, been around Campbellton Road, Simpson Road, West End and every ghetto in Atlanta. And I never thought it was cooler to go to jail than to go to college. I knew college wasn't for me, but I knew jail wasn't for me, either. If you give me the option between jail and college, I'm taking college. They have women in college, ain't no women in jail. I've never thought that. And no one I ever spoke to said, "Man, something in me wants to see what it's like to go to jail." On the other hand, we knew that we were doing things that could land us in jail. But we never thought it was cool. That's a misconception. If you're a teenager, or whatever, don't believe that going to jail is cool. I've been in there with people who are doing 20-year bids and life sentences. Those folks never feel like it was cool.

When he knew Tiny was the 'one':

For me, it was early. I can't say the exact day. Because even when you initially make the decision, you still wrestle with whether you made the right decision. Within the first two years, I made that initial decision. Then maybe another two years, I confirmed that decision. A few years later, I finalized that decision.

How women can find their king or the perfect man:
I hate to tell them something to do to get a man, and when they finally get that man they find out he's not the man they should have gone after. But you have to really get to know the person you think you are in love with. Learn who they are. Spend time with them. Because a person can only perpetrate for a certain amount of time. And one thing to always remember, you never really know a person until you watch them when they don't know they're being watched. If there was a hidden camera in the room, I would be the same way I am when we're together. How you see me, that's how I am.
And on "The Breakfast Club"
T.I. chatted with Power 105 this morning where the hosts thanked him for performing at their anniversary bash earlier in the week. While promoting his upcoming Trouble Man disc, T.I. discussed the difference between being T.I. (the reality tv personality) and TIP (the hardcore rapper). He broke down his evolution as an artist and explained how he had to navigate putting out records that would keep him popping in the streets while not offending his probation officer or compounding his legal issues with the feds.
During one intriguing part of the chat, he spoke about prison and how it's supposed to be about rehabilitation, yet he says he did more drugs and got into more trouble while in jail (trying to survive) than he did while he was out free. He explains his multiple prison stints by saying that you have to go into a "prison mindset" to survive, once you are back out on the streets, you may still have that "prison mindset" that allows you to make poor choices.
Watch the interview above....
And on the comedy front....
Katt Wiliiams is back on stage and using his routine to explain some of his recent public outbursts. Previosuly, we told you about Katt slapping a Target store employee and now we know what led to the slap (from Katt's point of view.) In the clip, Katt explains that the employee made a sarcastic comment about some of his legal woes saying, 'Your assistant is already suing you, you p**sy ass n***er." Katt then told him, "Say it again and see what happens." And the next thing that happened was the slap.
As it turns out, the employee, Forrest Liebenberg, was fired shortly after the incident with Katt. Although Forrest didn't return phone calls to TMZ about Katt's claims, it does seem to make sense. When you verbally attack a man who's already been known to physically attack others, you have to expect you'll get something thrown back at you...or a slap in the face.
But at least Forrest hasn't filed a lawsuit againt Katt...the funnyman already has enough to tend to.