CHRISTMAS SURPRISES: Bow Wow Professes His Love For Angela Simmons...Again + Rapper Lola Monroe Is Pregnant, Shows Off Her Baby Bump
Dec 26 | by Natasha
Well look who's pregnant. Former stripper turned video vixen turned rapper arm piece (you know--the usual chain of events), Angel Lola Luv, has a bun in the oven. Her first pic with her rapper baby's daddy and baby bump at Christmas inside. Plus, Bow Wow's Christmas plea to get Angela Simmons back....
Remember when Angel Lola Luv (now known by her rap name of Lola Monroe) had the internets going wild when her humungus ASSets looked far to unreal to be....real? Well she's about to be a mama now. And her baby's daddy is up and coming rapper King Los. The twosome also share the same management team.
Los posted the above pic of him and his Baltimore native lady on Christmas Day in front of their tree and presents. And he's holding her baby bump over her leopard dress saying:
Christmas 2012 with @thee_lolamonroe + 1...Best gift of all!!!
Well isn't that sweet. It may come as no surprise one of Lola's best friends is Blac Chyna--rapper Tyga's stripper turned baby mama. Follow the blueprint. Happy Holidays to the new parents-to-be.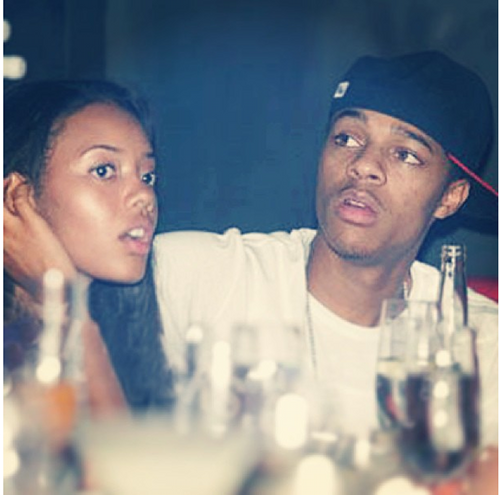 And in other surprise Christmas news, Bow Wow has had an epiphany this morning. The "106 & Park" host posted a pic of himself and Angela...from back in the day when they were on official couple status..saying he wants that old thing back.
I woke up and she was the first person I thought of....next to my Momma she is the best woman I encountered.
Bet he wishes he would have realized that before he (allegedly) cheated on her. We do like these two together. Maybe Angela will give him another chance....