"Django Unchained" CASHES OUT With $15.5M In Box Office Sales, LANDS At #2
Dec 26 | by _YBF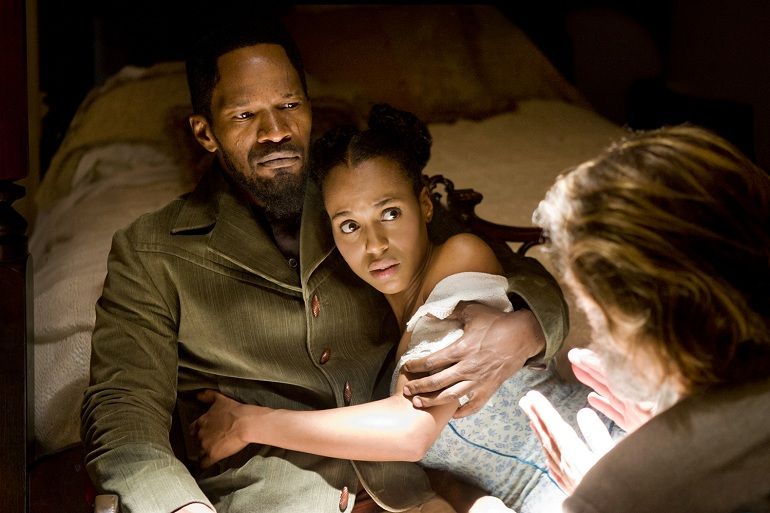 Santa Claus came right on time for filmmaker Quentin Tarantino and movie stars Jamie Foxx and Kerry Washington as their slavery/western flick Django Unchained hit the jackpot at the box office. Find out how well the film performed inside....
In wake of the Sandy Hook tragedy and the nation's public outcry against violence and guns, Django Unchained managed to weather the storm and overperform at the box office on Christmas day, taking in $15.5 Million in sales.
One person who won't be seeing the film is director Spike lee who told VIBE, "I can't speak on it 'cause I'm not gonna see it. The only thing I can say is it's disrespectful to my ancestors, to see that film." He went on to explain his feelings on Twitter saying, "American Slavery Was Not A Sergio Leone Spaghetti Western. It Was A Holocaust. My Ancestors Are Slaves. Stolen From Africa. I Will Honor Them."
Guess he's not a fan of Tarantino's out-of-the-ordinary visions he always has for his films.
Despite protests from Spike and other critics, many of whom took issue with the liberal use of the "n-word" and what some thought was a mockery of slavery, the movie was expected to gross about $14M. But it exceeded expectations and set a Christmas Day box office record for an R-rated movie.
Here's how the rest of the box office performed:
1. Les Misérables (Working Title/Universal) NEW [Runs 2,808]
Christmas Day $18.0M
2. Django Unchained (Sony/Weinstein) NEW [Runs 3,010]
Christmas Day $15.5M
3. The Hobbit: An Unexpected Journey (MGM/WB) Week 2 [Runs 4,100]
Christmas Day $10.8M, Cume $167.9M
4. Parental Guidance (Chernin/Fox) NEW [Runs 3,358]
Christmas Day $7.0M
5. Jack Reacher (Skydance/Paramount) Week 1 [Runs 3,352]
Christmas Day $5.1M, Cume $22.9M
6. This Is 40 (Universal) Week 1 [Runs 2,913]
Christmas Day $4.3M, Cume $17.3M
7. Lincoln (DreamWorks/Fox/Disney) Week 7 [Runs 1,966]
Christmas Day $2.4M, Cume $120.3M
8. The Guilt Trip (Skydance.Paramount) Week 1 [Runs 2,431]
Christmas Day $2.3M, Cume $10.9M
9. Monsters Inc 3D (Pixar/Disney) Week 1 [Runs 2,618]
Christmas Day $1.2M, Cume $8.3M
Congrats to Kerry & Jamie!