Pilar Sanders OPENS UP About ABUSE Allegations, Pre-Nups And Getting ARRESTED + Azealia Banks CLAIMS Manager/Boyfriend Dave Holmes ASSAULTED Her
Dec 26 | by _YBF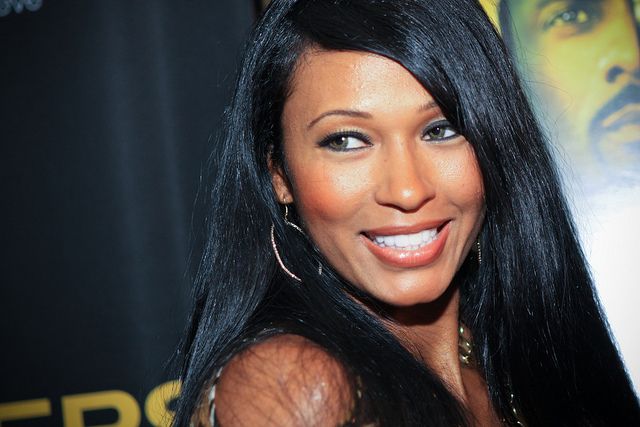 Pilar Sanders is opening up about the chaotic year she's had trying to divorce former NFL-star Deion Sanders including an arrest, losing custody of her sons and a substantial decrease in her income. Find out what she said inside and get the deets on Azealia Banks "alleged" assault....
Pilar Sanders talked to Cherry On Top recently about the hectic year she's had going through a very nasty divorce with Deion Sanders. We told you previously that she'd lost temporary custody of her sons and seems to be losing the battle of public opinion. She sat down to give her side of the story.....
ON CHILD SUPPORT:

"I was never, ever, ever once paid child support, at all. Never once. And I've seen his statement saying 'and I have the canceled checks to prove it,' but he never showed it, now did he? He never showed you one of his canceled checks of child support that he's paid, did he? Absolutely not, and he won't because he hasn't."

ON ABUSE ALLEGATIONS:

"Most recently, every picture on the web would show that my arm was broken and he busted my thumb in attempts to knock me out, kill me, yeah. And maybe, perhaps, people will believe it more so now, that, unfortunately they were seeing this season. The very drastic increase of athletes, football players who snap, and unfortunately, take their lives and other people's lives with them. It's not that far off, it's not uncommon among athletes. It's very, very, very not uncommon when you speak with other NFL
wives, football wives, athletes' wives."

ON THE FIGHT AND HER ARREST BEING "PLANNED":

"We're still in the middle of it. Wrongfully labeled as attacking him mind you. Collin County, our county's law states that if anyone is called to a home on domestic violence, that automatically, no matter who calls, the man is taken out of the house, period. No questions, no whatever, the man is just taken out of that house. Now if there's a sign of blood or a sign of injury on anyone, including the woman, then the man is taken and removed from the home for 24 hours. This is a county and state law.


When the police arrived to my home, they saw blood all over me, all over our floor, they saw blood and matter, just meat hanging from my hand. They removed me, they forced myself and my friend out of the home. That was wrong right there. So on so many counts, the police didn't follow what they were suppose to do, but it was all planned. They had been there earlier that day, talked about it. I mean there is a tape where you can hear Deion telling the police these things."

ON ACCUSATIONS THAT SHE AND A FRIEND "JUMPED DEION":

You know what, I'm 129 pounds, okay. He has been trained all his life to play baseball and to attack people. Football, you're running, you're grabbing; it's a very violent sport. What kind of sense would it make for me at 5'9″, 129 pounds to attack someone his size? That just doesn't make sense. And for what? No, not at all."

ON BUILDING THE DEION SANDERS BRAND:

"Exactly, and he became who he is not by his own merit, he became who he is by the grace of God and by the grace of God putting me with him because let me tell you sweetheart, out of the 14 years that mama's been home, I haven't been sitting around eating bon bons, I've been building our family brand. I've been building up Deion Sanders because why not? He's my husband. You're the brand we can market the most and market right now. So once you think you got your feet down and your ears dry, you want to go act a fool. Okay, go ahead, but you know, you've got to answer to somebody."

ON THE PRENUP NOT BEING VALID AND SOMEONE FORGING HER SIGNATURE ON IT:

"You hit the nail right on the head. You certainly do, and if you don't initial it, usually it's just not initialed. But in cases where you have people who operate with power and money, and who are used to getting what they want, however they want, and it will be done however they want it to be done, if you don't take the steps to initial, I guess they're just going to do it for you, and that's what happened in my case, without my knowledge."
And over on the music side.....
Azealia Banks used Twitter to lash out at Dave Holmes, her boyfriend/manager and accused him of assault. In a tweet that was quickly deleted, the outspoken rapper said, "ColdPlay's manager Dave Holmes is a piece of sh--. Second time he has put his f----- hands on me,"
Though that tweet was later deleted, she followed it up with a few subliminal messages about betrayal......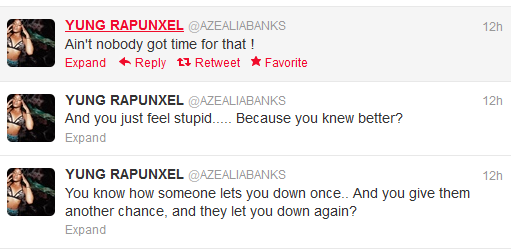 As Azealia is expected to release her first full length album next year, it will be interesting to see if Dave stays along for the ride as Azealia is accustomed to management mix-ups. If not, perhaps the assualt will find it's way into some of her music.