Dwyane Wade SUSPENDED For Giving A Knee To The Groin, Defends Himself On Twitter
Dec 28 | by Natasha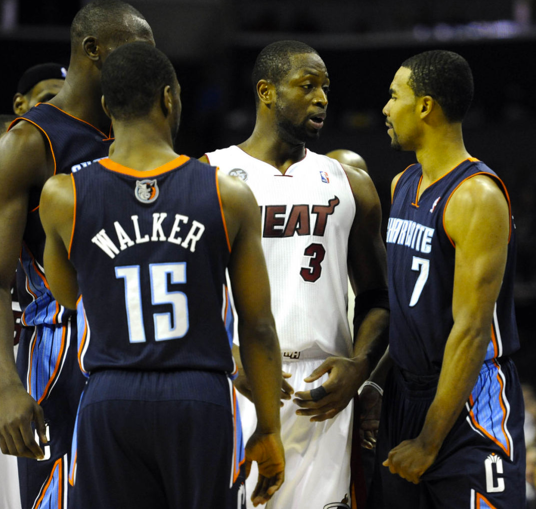 Father of the Year Dwyane Wade got a bit heated during last night's game against the Bobcats. Now he's defending himself on Twitter about that shot to the groin....
Miami Heat star D-Wade is usually a pretty even tempered player. But after some rough contact from Charlotte Bobcats baller Ramon Sessions (#7 pictured above right after the conflict), Dwyane had to give him a little something.
In the middle of the 4th quarter of Wednesday night's game in the MIA, Dwyane flailed his leg on Sessions and it resulted in D-Wade's knee kicking dude in the groin.
The Heat still won the game, but Dwyane rushed to his Twitter to explain his actions..especially because it went down in front of his boys:
"I'm far from being a dirty player + my intent was never 2 kick Ramon Sessions.

I just reacted to the contact that I got from him.... More than anything, I think of my boys watchin me be4 retaliating 2ward any player. Im moving 4ward + ready 2 get back on the court in MIL."
Mr. Wade was slapped with a 1 game suspension on Thursday, without pay, and he will serve it by sitting out tonight's game when the Heat travel to Detroit. Peep the video below and decide if this scrap-up really warranted a suspension...