MUSIC FAB: Azealia Banks' "BBD" + Timbaland's "Party Anthem" Ft. Missy, Weezy & T-Pain + Big Boi & T.I.'s "In The A" Video
Jan 02 | by Natasha
Azealia Banks is kicking off the new year with a brand new song. Check out "BBD" inside, plus new music from Timbaland & Missy and a new video from ATLiens Big Boi & T.I.
Azealia Banks goes ratchet trap star on her new "BBD" track. The "Bad B*tches Do It" song,Azalia says, is NOT the first single off her upcoming debut studio album Broke With Expensive Taste, out February 12th.
The sassy fashion rebel posted the lyrics on her Tumblr account. And has recently spoken out about becoming anti-fashion and anti-rap...the two very things that got her here in the first place. But she says she's not interested in getting pigeonholed into those fickle IT-girl roles. Azealia told Hypetrak mag:
"I think that too much fashion attention as an artist can actually smother you. And it can actually really, really distract from your music. And I kind of almost got there with it, you know what I mean? Where it was like, fashion fashion fashion fashion fashion. And I was like this fashion darling. I was putting out records… and the only record anyone would listen to was "212″. That was the only Azealia Banks record that anyone knew…"

You can very easily get sucked up by the fashion world, because they bring artists in to make themselves look a certain way, and then as soon as someone new comes up, they've completely forgotten about you. They're so fickle. If you place your faith in the fashion world, you will get let down."
You feelin' the track?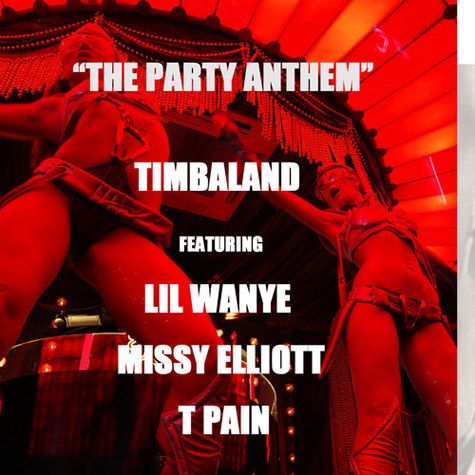 Meanwhile, Timbaland also dropped a new track. He teamed up with his long homie Missy, plus Lil Wayne & T-Pain for "Party Anthem."
The track is an unreleased nugget from Timbo's goodie bag. So turn it up and keep your New Year's celebration going...
And Big Boi just released the video for his, Luda's and T.I.'s song "In the A." Check out Atlanta's fave hometown boys repping for their city above. The track appears on Big Boi's latest album Vicious Lies and Dangerous Rumors.