Amar'e & Alexis Stoudemire Expecting BABY #4!
Jan 03 | by Natasha
Not only have NY Knicks baller Amar'e Stoudemire and long time girlfriend Alexis Welch gotten married recently, but now they're expecting their FOURTH child together.
Deets inside...
It must be something in the water. Because baby fever is taking over 2013 already! After a huge year involving a surprise Paris hotel rooftop proposal, a surprise NYC rooftop wedding, and a post-injury comeback to the Knicks, things just got even better.
The couple just announced that Alexis is pregnant with the couple's fourth child. And she's due late this spring!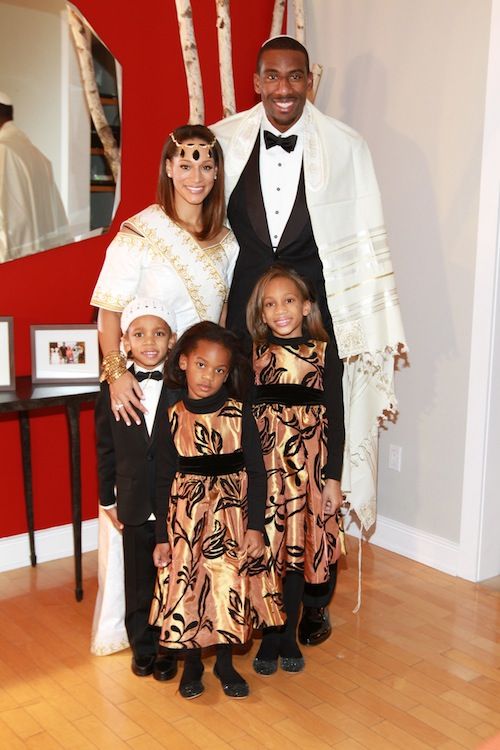 Alexis, who admitted she's had a little morning sickness but is so excited about the new addition, told People.com:
"We're blessed that we were able to extend our family. We're both huge on having a nice size family. It was something we've been talking about for a while. It happened naturally and at the right time so it all worked out."

"It was just perfect timing and I can't complain!"
And their 3 kiddies--Ar'e, 7, Amar'e Jr., 6, and Assata, 4--are just as thrilled Alexis said.
"They're very, very excited. They just keep guessing if it's a boy or a girl."
The couple say they will indeed find out the sex of the baby as soon as they can. And Alexis said Amar'e is going to continue being a great dad:
"As soon as Amar'e walks into the door those kids are all over him. He's like a big kid. He's a great dad."
Amar'e gushed over his wife's mothering skills saying:
"She does it all...She does such a phenomenal job with the kids. I'm just here to be the big teddy bear."
Meanwhile, the couple is planning a huge Cinderella-style wedding that family and friends will attend, since their rooftop wedding was strictly for their immediate fam.
Amar'e is keeping championship hope alive and told the site, "Hopefully we'll bring home a championship and we'll celebrate with a wedding after that!"