Iyanla Vanzant Talks SHARING While Covering ESSENCE + Jennifer Lopez COVERS "HARPER'S BAZAAAR"
Jan 03 | by _YBF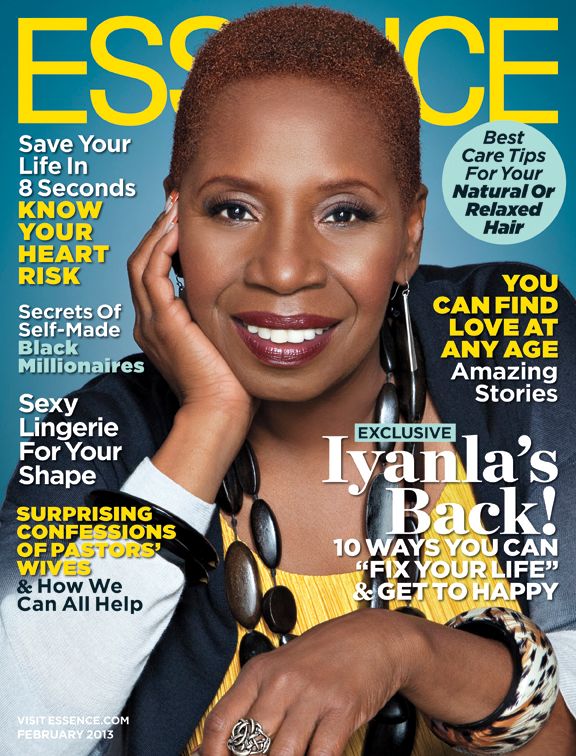 Talk show host Iyanla Vanzant covers the latest issue of ESSENCE where she offers women advice on fixing their lives and says why it's important to be true to yourself. Find out more inside and see Jennifer Lopez's photoshoot for HARPER'S BAZAAR.....
"Iyanla, Fix My Life" host Iyanla Vanzant covers the February issue of ESSENCE Magazine where she talks about her ten secrets to finding real and lasting happiness and shares why she has a reason to smile despite a past that includes abuse, going broke and the death of a child.
She also offers advice to women about being their true selves and partnering up saying,
"Be willing to share all of who you are. So many of us want a partner, but we're not willing to show all of us. That's why we have a weave, we're wearing Spanx and everything is 'fine.' If you're not willing to let your partner see your cellulite or know your biggest fears, then you aren't really ready to share yourself…"
Pick up your copy....
Also on magazine stands......
Jennifer Lopez stars in a sizzling photoshoot for the February issue of Harper's Bazaar.
And rocks the on-the-shelf cover in a gold Paco Rabanne dress.
Inside the mag, rocking a fringed gold Versace dress, she talked about her 16-hour days saying, "I'm a singer. I'm a dancer. I'm a performer. I'm an actress. That's what I'm supposed to be doing. It makes me a better parent, a better person. I think I can just handle more than the average bear, you know?"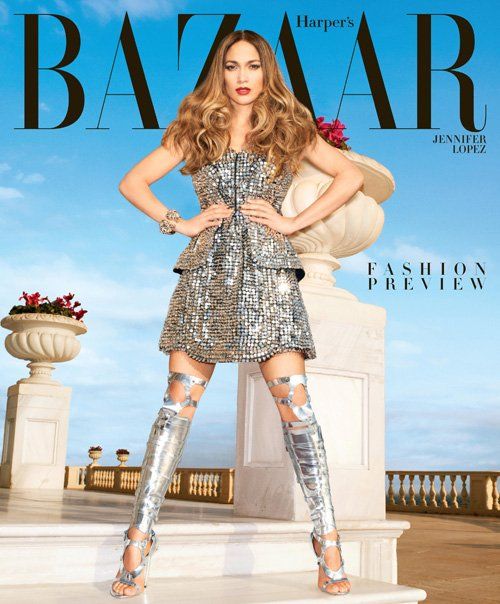 For the subscriber's cover, Jenny rocked a silver Fendi dress and matching silver metallic Tom Ford bondage boots.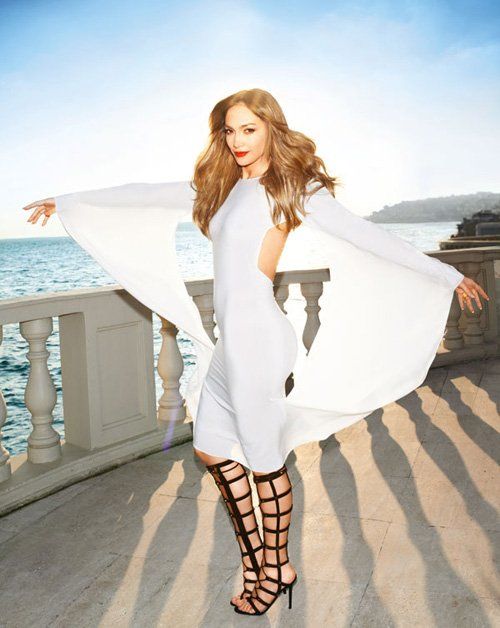 J-Lo channels a little Barbarella in the flashy and futuristic themed shoot. She's rocking a white winged Tom Ford dress and Jimmy Choo cage sandals.
Jen is set to star in the upcoming action flick Parker. Loving this last yellow Balmain look.
A few excerpts from her cover story:

On her career: "I'm a singer. I'm a dancer. I'm a performer. I'm an actress. That's what I'm supposed to be doing. It makes me a better parent, a better person."
On her beautiful life: "I like the whole idea of traveling, of looking good, and doing it well. I make it as simple and as beautiful as I can because my life is kind of big. So I pack my luggage, or dress myself, or comb my kids' hair, pick up their clothes – that makes our life beautiful, you know? There's something very elegant in that."
On her famous Versace Grammy Awards gown: "I have that at home. The other day, my housekeeper put it on a mannequin in my spa, where I get my hair and makeup done. She sent me a picture. She was like, 'You like this dress?' Um, yeah, but I don't know if I like it out in the house."
Photos via Harper's Bazaar/Katjia Rawles