Tyga Talks GANGSTA RELATIONSHIP With Blac Chyna, GAMBLING, And PUTTING A "187" On HIP HOP
Jan 05 | by _YBF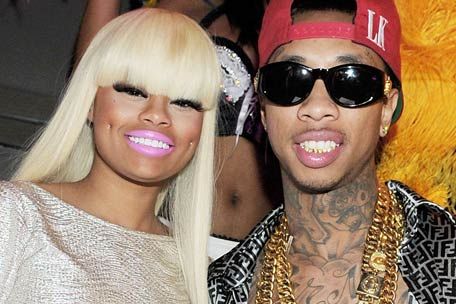 "Rack City" rapper Tyga stopped by Big Boy's neighborhood to talk about his baby mama Blac Chyna, his Young Money partners, gambling, and his next moves in the music business. Watch the interview inside....
Tyga promoted his "187" single with Rick Ross on Big Boy neighborhood recently and revealed that there's meaning behind the song title (e.g. he's murdering the game). He also said he hopes to work with Chris Brown on a new mixtape at some point, "Whenever we stop driving Lambos and posting pictures on Instagram, maybe we could finish it."
He talked about his love for his baby mama Blac Chyna. When asked who said "I love you" first or if sings songs to her, he said he isn't that type of dude. This either means he doesn't do those things or he just wouldn't reveal them in public.
He did offer up, "We got a real gangsta relationship. Ya'll not gonna see us doing no crazy, corny stuff. We go to the strip club together, do stuff like that." Big tried his hardest to get him to show his senstivtive side but it didn't work.
And if he had to chose between saving Nicki Minaj or Drake from drowning and there was only room for one on a life raft, he'd save Nicki. And between Drake and Lil' Wayne, he said "I'd extend both hands." Then he admitted, he'd save Wayne.
He also talked about his love of roulette and revealed that though he's not a big gambler, he's had nights where he's lost at least $40,000.
Watch the interview here:
The Randomness:
1. Former baller Allen Iverson fears judge will favor ex-wife over him because of campaign donations made by her attorney, the same attourney Usher used. Story.