Tahiry Jose Reveals She Bought Ish For Joe Because Of His Bad Credit...And Joe Dishes On Poppin' MOLLYS All Summer-Long!
Jan 08 | by _YBF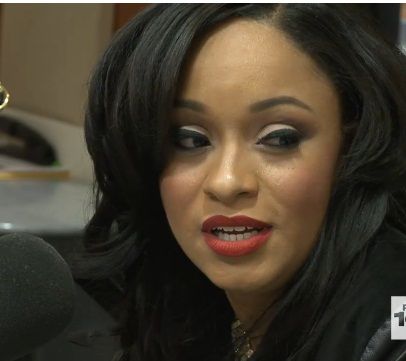 "LAHH 3" star Tahiry Jose stopped by The Breakfast Club to talk about her on-and-off again friendship with rapper Joe Budden and her fight with castmate Raqi Thunda. Meanwhile, Joe also appeared on the show and talked about his drug use and why he thinks Raqi Thunda is in love with him. Watch the interviews inside.....
Fresh off the heels of her exclusive interview with TheYBF.com, "LAHH 3" star Tahiry Jose stopped by Power 105.1's The Breakfast Club this AM to talk about the show's first episode and to explain her relationship to some of the show's central characters like her ex-boyfriend Joe Budden and her frenemy Raqi Thunda.
What we really wanted to know is why she came out the gate swinging so hard--literally--thwoing drinks and fighting when we barely knew anyone's name yet. She must have read the script more passinately than others. But we digress.
Here are the highlights:
On Joe Budden
She explained that she did not have sex with Joe last July (despite what he claims) and says that they will always share a closeness because of their history. She says that they are not friends "at the moment." She also shared a story about finding Joe hiding under her bed--she gave him a key (after they broke up) and during one of their off-moments he decided to hide under her bed.
She said she is not still interested in Joe (yeah, ok) but because they have a storyline together AND a history, you are going to see some type of emotion between the two of them. She added she doesn't think she could ever get back with Joe because she doesn't believe anything he says and he needs to mature.
She mentioned that his "addiction" problem did have an impact on her and she did "buy" a lot of things while they were together because he has bad credit. WOMP. Maybe that explains why she's still at her waitressign job years later.
On castmate Raqi Thunda
Tahiry admitted to having bad feelings towards her because she feels like Raqi used her to get to Joe. "There are certain things you just don't do. It's the principal behind the situation." She said she does believe that Raqi and Joe have slept together, but at this point it really doesn't matter.
On threesomes
She says she's never had a threesome but she is not opposed to them either. But, she made it clear she is not interested in getting with Joe and his new girlfriend Kailyn.
On J.R. Smith (who posted that pic of her naked ass in bed with him)
They are still friends but she is a little pissy that he tweeted a pic of her booty without her knowledge last year. She said that incident helped end their "relationship." Right....
On Fabolous - She says they messed around when she was 17. He was not a superstar at the time...he was still on mixtapes.
Watch the interview:
Also on "The Breakfast Club" this morn:
Joe stopped by to defend himself and gave a shockingly candid interview about his role on "LAHH 3."
On if his behavior is authentic
"None of my scenes [are fake]. All mines were authentic like a mugg. They just serve you all the alcohol in the universe at 8 a.m. and they gon' put you were they gon' put you and you gon' behave like you behave."
On drug/Molly use
"We popped 'em all summer. I stopped."
On why he stopped using Molly
"Well I had a bunch of bad incidents. My brain just operates differently on drugs. It was definitely a relapse."
On Raqi Thunda and their "relationship"
"I mean, me and Raqi did a lot of drugs together...It's easy to fall in love with people when you're doing drugs."
On if he loves Raqi and her feelings for him
"No, I'm of the belief that Raqi is in love with me."
So there you have it. I see Joe is trying to play that annoying soft voice arrogant Stevie J-style role this season. So transparent. But maybe other folks love it....