Carmelo & LaLa Anthony TOGETHER IN London, Carmelo SHRUGS Off The Mics On The Court
Jan 16 | by _YBF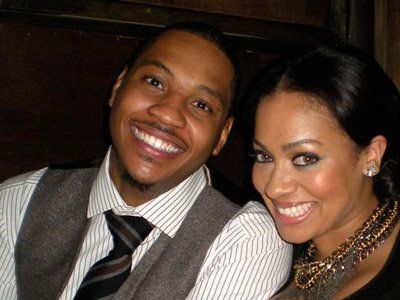 Despite rumors of marital strife, Carmelo Anthony and wife Lala Anthony are together across the pond (not pictured) for an upcoming Knicks game. Get the deets on their London game and hear how he feels about the owner of Madison Square Garden making plans to spy on him inside....
Carmelo Anthony and wife Lala are proving the gossips wrong and showing that they are still together while on a NY Knicks trip to London. The team is currently across the pond where they'll play against the Detroit Pistons at the O2 Arena on Thursday.
It's Carmelo's first time being back in London since he was a part of the gold-medal winning Olympic basketball team. He told the NY Post that he brought his wife along and he's ready for the exhibition style game. "It feels good to be back. I'm tired now, but I'll get some rest and see how I feel. It'll bring back some good memories.''
And LaLa was in good company as other NBA wives like Porschla Kidd and Alexis Stoudemire also made the trip. And it's all thanks to NY Knicks owner James Dolan renting a supersized charter so the Knicks could bring their wives and kids along for the London game.
But back on American soil, James is gearing up for what some consider to be a shady move. When the Knicks play the Bulls on Friday and Sunday's game vs. the Hornets, he's hired two audio technicians to sit on opposite sides of the court to record Carmelo's on-court dialogue with other players. Say what!?
Carmelo spoke up about it, "I don't care about the microphones, I wasn't aware of it. I found out on the plane [ride].''
He added,
"I don't think the mics are going to stop what goes out on the court. But it was funny when I heard it. No, I wasn't upset. Not at all."
He took an even more positive attitude yesterday saying, "I got an owner who looks out for me. You can't beat that, an owner that protects his players."
We're glad Carmelo is looking on the bright side of this. And it might be interesting to hear our favorite NBA ballers trash-talking while on the court. That alleged "Honey Nut Cheerios" line is better than anything we've heard on reality tv lately.