Mariah Watches "Idol" Premiere With Miss Monroe, Classy Shade Ensues On The Show
Jan 17 | by Natasha
Last night's "American Idol" premiere was everything we thought it would be. Catfights between Mariah Carey & Nicki Minaj and classy shade thrown by MiMi. Check out some tidbits inside in case you missed it...
As the "Idol" judges made their way around the country for auditions during the first night of the premiere, Nicki & Mariah clashed to the high heavens. And you gotta love it.
When Nicki rocked her fluffy drum major's hat and had it sitting on the judges' desk, Mariah remarked:
'I wanted to bring my dog. We can have accessories? I didn't know that was allowed. But that's the last thing I'm going to say.'
Teeheeeeee. And it didn't end there.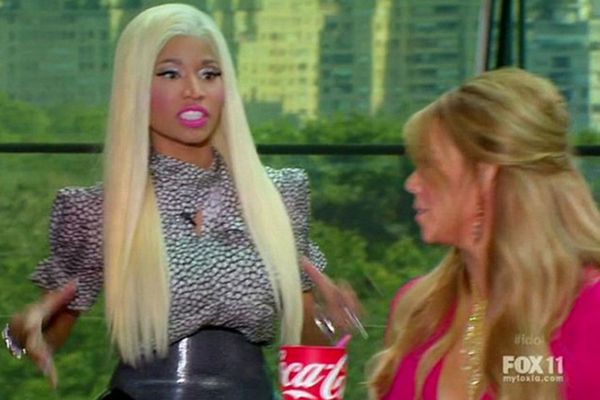 One of the contestants began by telling Mariah her Christmas song "All I Want For Christmas" is the best Holiday song ever. Nicki unnecessarily chanted through her gritted teeth:
"She's a b*tch, she's a b*tch, she's a b*tch."
Mariah's response: "If she called me something that begins with a "B" and ends in an "-itch", I rebuke it."
Ha! Not REBUKE though.
And another funny scene went down int he hair and makeup room. Mariah said, "I want to lose three pounds." And the convo went downhill from there:
'I know how you can,' said Minaj.

'It's a quote from Mean Girls. If you knew Mean Girls you would know,' said Carey. 'I do know Mean Girls,' said Minaj.

'OK, who says "I want to lose three pounds." Which character?' challenged Carey.

'Not Lindsay. The other one, with the blonde hair,' said Minaj.

'What's her name?' asked Carey. 'You know something?' said Minaj. 'Mariah?'

'I just want to know,' said Carey. 'Broken promises, right?'
Sigh.
Check out a video recap of last night below:
Meanwhile, nothing seemed to get to Mariah: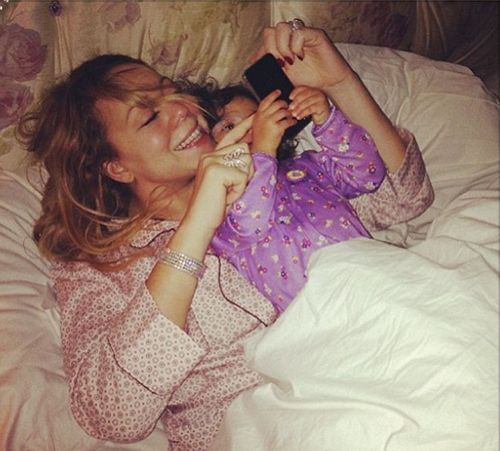 Because chick Instagrammed a pic of herself watching her premiere in bed with her baby girl Monroe Cannon. Sweet!
Pics: Instagram/Fox