DO GOODER: Hottie MLBer Matt Kemp GRAND MARSHALLS The L.A. MLK Parade
Jan 20 | by Natasha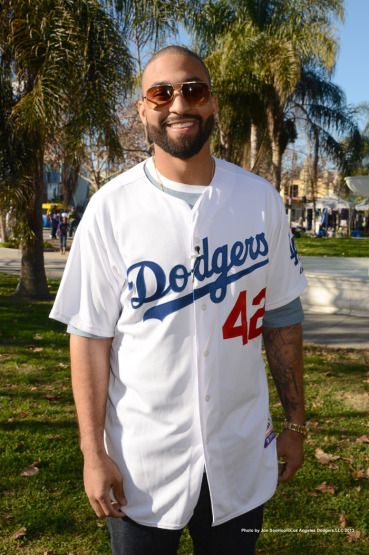 Hottie Matt Kemp is putting his barrier breaking career to good use. The professional baseball player served as Grand Marshall for the L.A. MLK parade this weekend. And even posed it up with legendary black Dodgers players as he rocked Jackie Robsinson's jersey. Pics inside...
Back in 2011, the 28-year-old Dodgers star signed a franchise record 8-year, $160 million contract extension. And in a year where the Jackie Robinson film, about the iconic racial barrier breaker of the (then Brooklyn) Dodgers, is due out, Matt took the time to celebrate with legends from his team.
On Saturday afternoon (January 19), Matt kicked off the official MLK parade as the 2013 Celebrity Grand Marshall. He cruised through the city of Los Angeles with one of his biggest fans by his side, Judy Henderson, his mother.
In efforts to pay respect to those who made this opportunity possible for him, Matt opted to wear number 42, the jersey of the late Jackie Robinson. The cutie chatted with fans, posed for fan photos, and cheered on the crowd with other Dodger Alumni.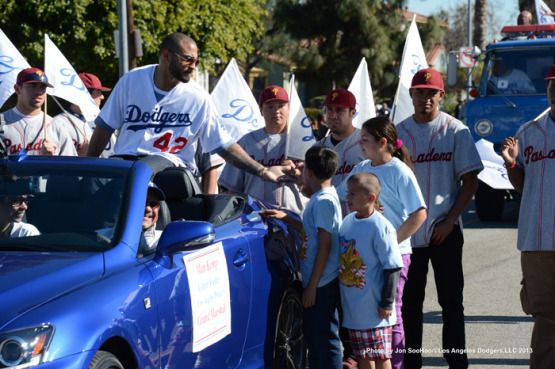 Gotta love it.
By the way, check out the trailer for 42:
The movie hits theaters April 12, 2013 and features music from Jay-Z.
The Randomness:
1. Rev. Run & Russell Simmons' business partner Rasheed Young is accusing the brothers of screwing him out of millions....due to them stashing money from the Pastry shoe line. STORY
2. Shawty Lo is holding out hope for his cancelled Oxygen network reality show "All My Babies Mamas"....still. He claims other networks have already expressed interest in picking it up. We bet we can guess which ones... STORY
Photo Credit: Jon Soohoo