CHECK IT: Our Fave Moments From Inuaguration Day 2013
Jan 22 | by Natasha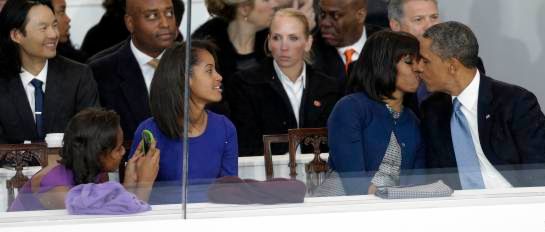 You've seen all the official and picture perfect images from yesterday's second Inauguration Day festivities for the President. Now we've got the moments we loved the most that were caught on camera.
Check out the PDA loving Obamas, the Obama girls snapping pics of themselves (and we can only HOPE they have secret Instagram accounts) like any other girl in the world, and more....
And that's how the First Family is just like us. While chillin' in the Review Stand during yesterday's Inaugural Parade, First Lady Michelle showed that she gives the duck face in pics just like everyone else. And her daughters Sasha & Malia were all about snapping the pics: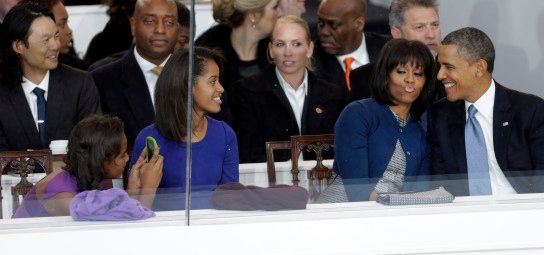 POTUS & FLOTUS were caught on video kissing each other at least 3-4 times while Sasha snapped away....because they wanted to get the perfect kiss pose. Mr. Prez gave no complaints and didn't put up a fight about the multiple kisses....probably because his wife looked insanely gorge yesterday. And it's written all over his face his cutesy obsession with her. Gotta love it!
And just like any teens, Sasha and Malia snapped pics of themselves posing it up in between acts of the parade stopping in front of them: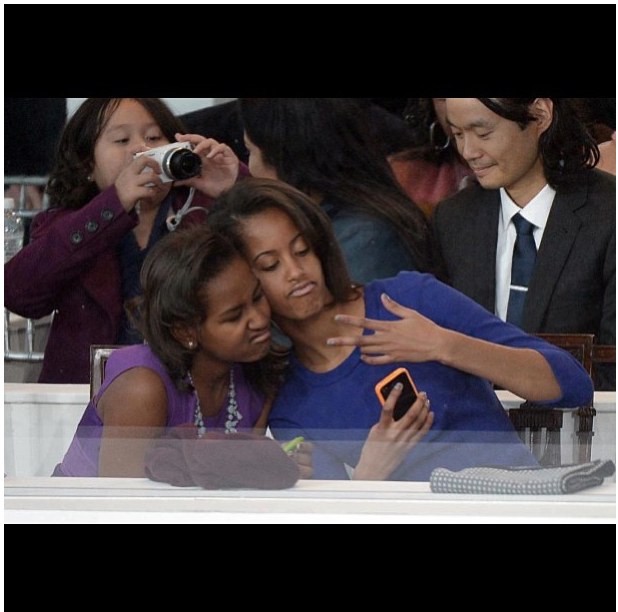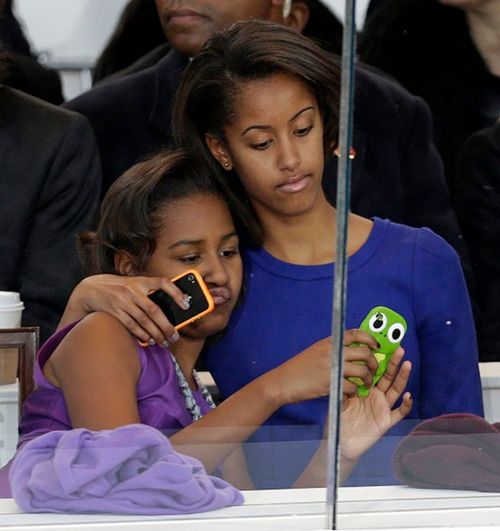 Ha!
Malia was dancing it up in the booth most of the time. Love how fun and lose the Obamas were this time around.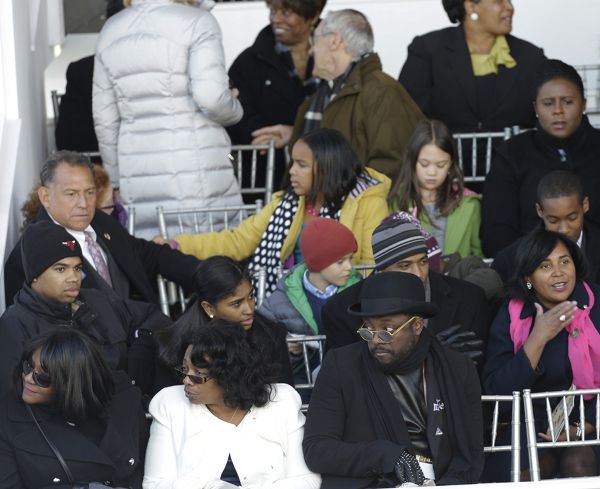 Will.I.Am was in the Review Booth looking like he had just seen something he shouldn't have.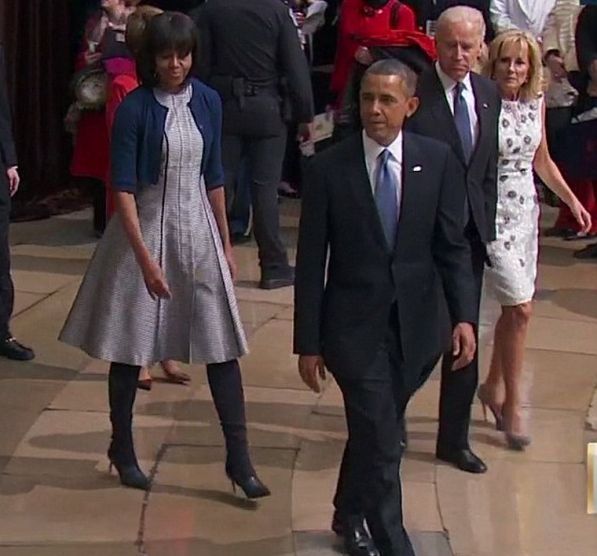 The moment we finally got to see the full outfit under that Thom Browne coat. Debuting it at the Inaugural lunch yesterday afternoon, Mrs. O rocked a silver Thom Browne dress and cardigan with her knee high Reed Krakoff boots. And we absolutely loved Dr. Jill Biden's white dress with rosette accents.
And First Lady Michelle's playful eye roll at the luncheon--that was for Speaker Boehner, her husband or maybe both of them:
Outside at the swearing in, Beyonce got some love from both the President and the First Lady, who Bey & Jay call friends: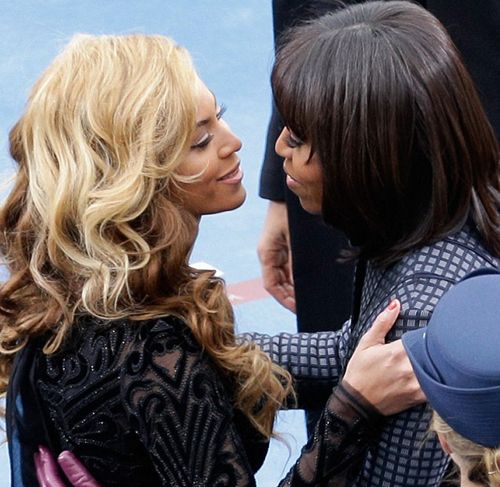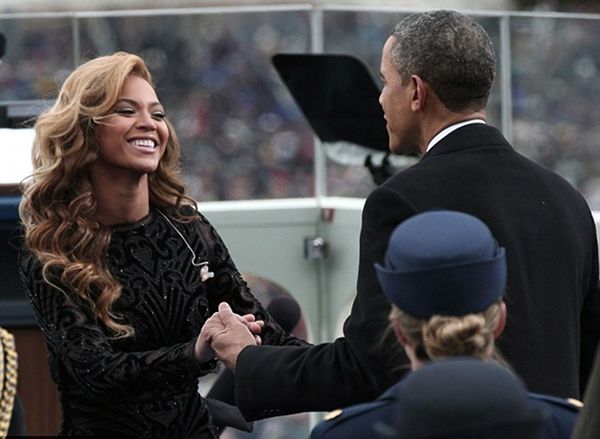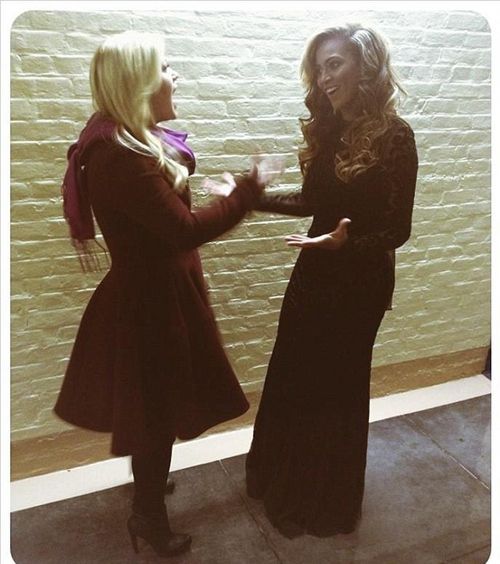 Kelly Clarkson tweeted a cute pic of the two of them afterwards saying, "Me and B just hangin' out ....don't worry about it. Seriously, God did good. She is so beautiful!"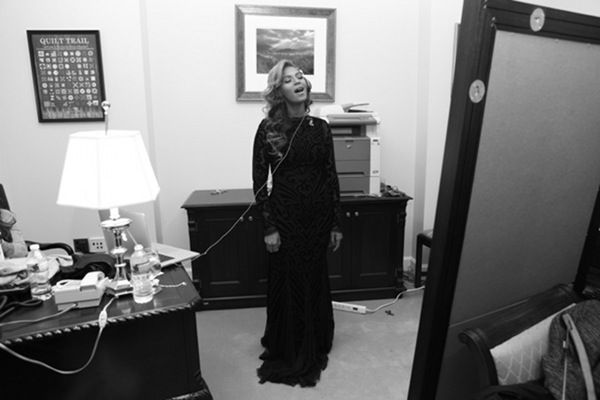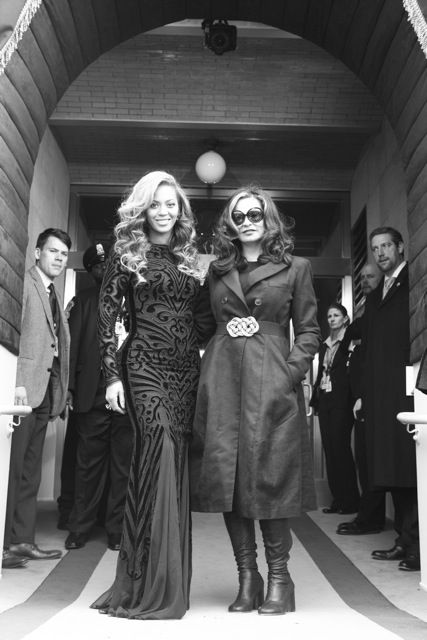 Bey also took to her Tumblr to post a few pics of her rehearsing before going out on stage, plus a pic with Mama Tina.
By the way, now there's controversy over Beyonce lip synching (or singing to a track) for her performance of the National Anthem. Even though most performers at Inauguration do have a back track due to being outside in the elements, Beyonce has made news for it. Reports state that she opted, last minute, to mouth along with her studio version of the track. Kelly Clarkson reportedly sang "My Country Tis of Thee" live.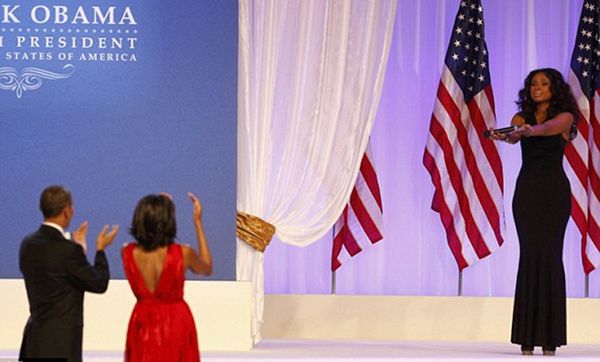 At the official Commander In Chief's ball, President & Mrs. Barack & Michelle O. saluted Jennifer Hudson who serenaded them....and it made for a sweet moment.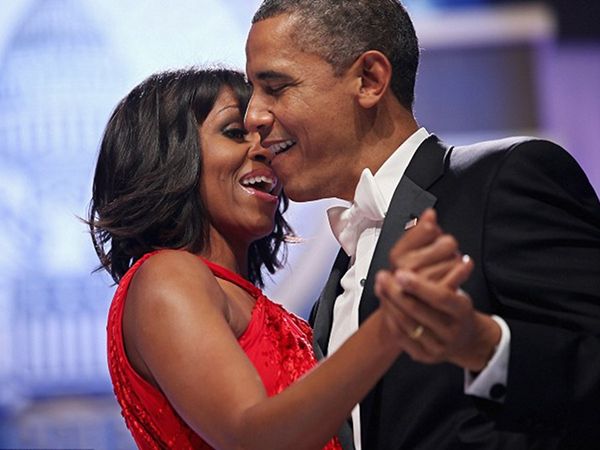 And the President's swoon-worthy (and downright sexy) singing of his own he did in his wife's ear.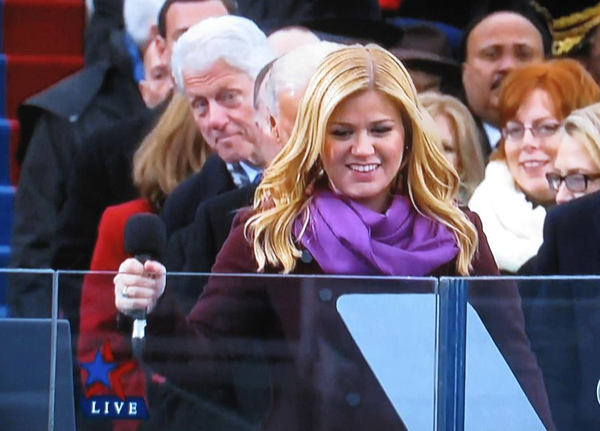 Also outside at the swearing-in, yeah we caught you eyeing Kelly Clarkson's ass Mr. Clinton. EVERYONE saw you. Still the same ol dude. Hilar.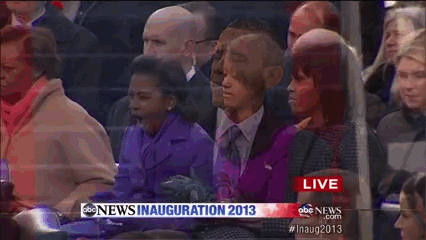 Sasha was unimpressed by her dad's swearing in speech. Gotta love the down to earth kids who aren't fazed by all the pomp and circumstance surrounding daddy.....
At the parade:
How can you not love a President who blows kisses to the crowd?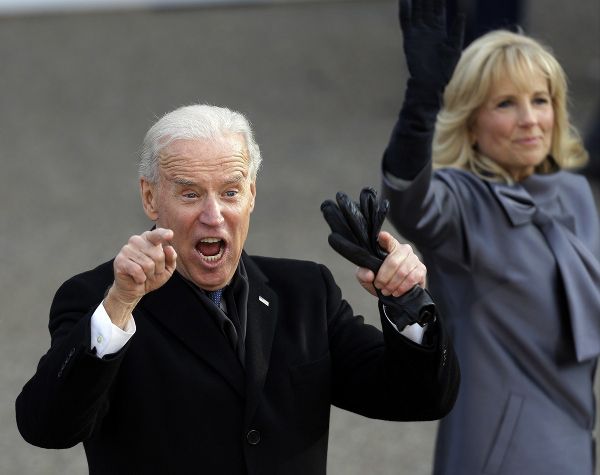 And Uncle Joe Biden....was on 100. And we loved it. He gave his Secret Service a heart attack a few times as he sneaked out of the extra secure formation to go shake Al Roker's hand and the hands of some random kids. All while yelling the whole time. Gotta love Uncle Joe.
What were your fave moments?