Mariah Carey Bares Her Belly While Leaving Her NYC Apartment
Jan 30 | by Natasha
Nicki Minaj isn't the only "American Idol" judge who has no qualms about baring her bod. Check out what Mariah Carey was rocking in NYC today inside...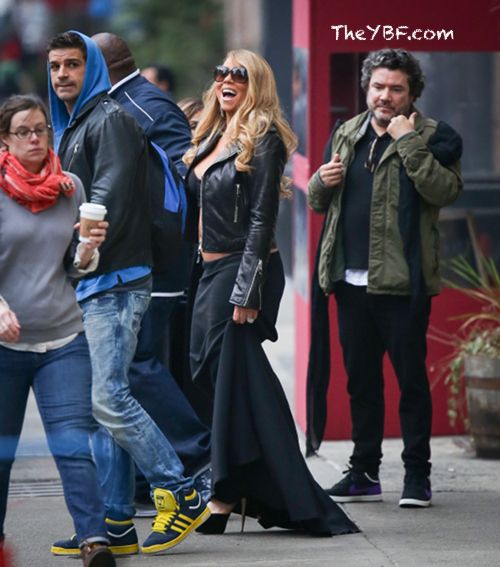 Mariah was all dressed up in a black cropped top, a black maxi skirt and heels while leaving out of her Tribeca apartment today. She's been giving the classiest of shade on "American Idol" this season, and she has no probs baring her post-twins belly either. Gotta love a feisty, no holds barred chick...who does what she pleases with a smile.
Meanwhile, her ex husband and Sony Exec Tommy Mottola is making his promo rounds for his new memoir, Hitmaker. And, of course, he's dishing a few things about the twosome's doomed marriage. Entertainment Weekly reports about the 1996 Grammys that put the nail in their marital coffin:
By February 1996, Carey was one of the biggest stars in the world and was nominated for six Grammy awards at that month's ceremony. But the star went home empty-handed, a shut-out which Mottola in part blames for the pair's ultimate break-up. "You could hear the crack between us cracking open a little wider on a night that I was hoping would allow us to look back on all the good times that had brought us this far," he writes. "Fat chance of that." At that evening's Sony Grammy party Mottola asked that the replay of the ceremony on the monitors be replaced with music videos to avoid "incensing" his wife. "You can't make this stuff up," ruminates Mottola. "But I really did feel terrible for her."
Goodness.
Pics: Splash