BABY BOOM: Tracy Morgan & Fiancee Meagan EXPECTING + Donald Faison & New Wife Cacee PREGNANT
Feb 01 | by Natasha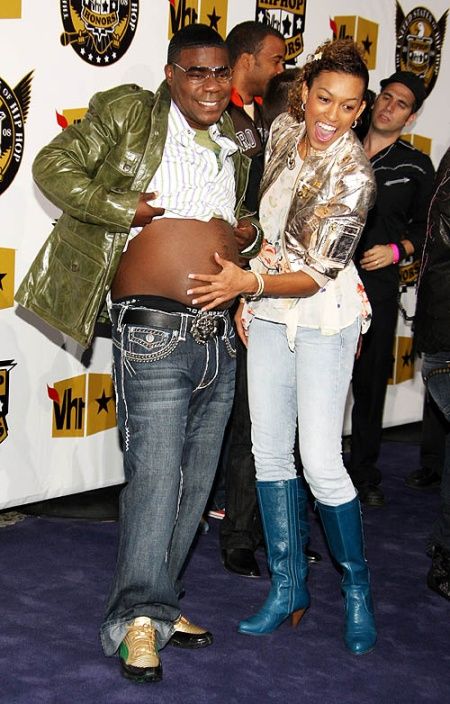 Tracy Morgan's show "30 Rock" might have ended last night, but he's keeping the baby factory rolling as he has a fourth child on the way. Plus, actor Donald Faison has his 5th on the way. Baby deets inside...
Big baby news for 44-year-old Tracy Morgan and 26-year-old fiancee Megan Wollover! Meagan is pregnant with the couple's first child together. But it's baby #4 for Tracy. He said yesterday:
"I am over the moon excited and just want a happy and healthy baby and a safe delivery for Megan."
Tracy has three grown sons from his previous marriage to ex-wife Sabrina. And as for what he'll be dong now that his hit show is done, he's kicking off his "Excuse My French" tour in Kansas this fall.
And another actor is expecting a baby to add to their starting lineup. "Scrubs" & "Clueless" actor Donald Faison and his new 35-year-old wife Cacee Cobb are about to deliver their first kiddie together. But, this makes #5 for Mr. Faison.
Cacee, whose best friend is Jessica Simpson so they get to go through pregnancy together, tweeted yesterday:
"Looks like [Donald] and I are going to have a little stormtrooper of our own!"
Well isn't that sweet. The twosome were just married in December, and the 38-year-old "The Exes" star Donald has four kiddies form previous relationships: Kobe, 11, Dade and Kaya, both 13, and Sean, 16.
Congrats all around!
The Randomness:
1. Today is Go Red For Women Day (Heart Disease). STORY