BOOBS ON BOURBON STREET: The 49ers HIT The STRIP CLUB Before The SUPER BOWL
Feb 01 | by _YBF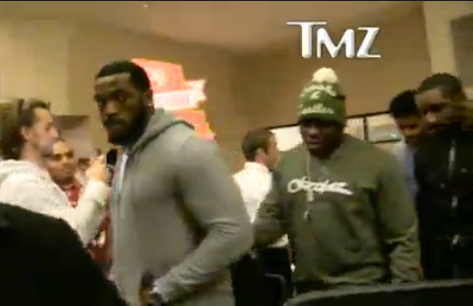 Before kickoff on Sunday, a few of the San Francisco 49ers participated in their own version of a kick-off at the local strip club. Find out what went down on Bourbon Street inside....
There are plenty of reasons to head down to New Orleans, LA . There's the fusion of French and Spanish culture, wonderful jazz clubs, excellent seafood, the Super Bowl and....boobs.
New Orleans' infamous Bourbon Street is well-known for women flashing their ta-tas for "bands" of beads and a few of the San Francisco 49ers, namely Frank Gore, Michael Crabtree and Patrick Willis were spotted leaving their hotel and heading over to one of the street's high-end strip clubs (if there is such a thing) called Penthouse Club.
The three level ta-ta palace is also famous for serving Naked Sushi (which you can eat off of your favorite stripper and hope you don't end up with food poisioning or an STD) and reports say there were over 150 dancers working the club (and pole) that night.
We can't tell you what all happened once they got inside....but we're sure the ladies were happy to dance for some of those Super Bowl tips. *In our best "Player's Club" PA system voice* BALLERS IN THE HOUSE!
Watch the arrival at the strip club here: