Miguel COVERS "Prince" Magazine, Offers TIPS On Getting A "Happy Ending"
Feb 08 | by _YBF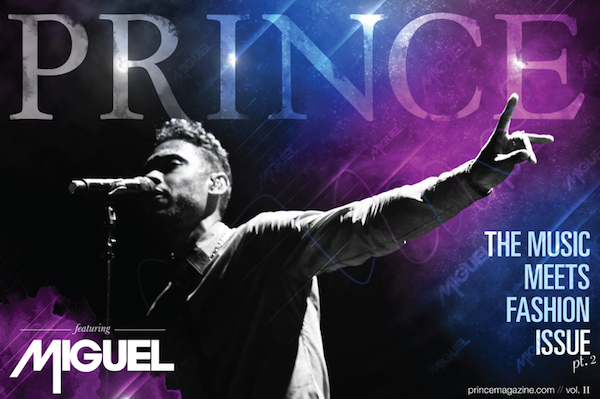 "Adore" crooner Miguel covers PRINCE Magazine and offer guys advice on receiving a "happy ending" for Valentine's Days. Get the tips inside and see Quvenzhane Wallis on the cover of JET.
Miguel, who's heading out on tour this year with Alicia Keys, covers the latest issue of PRINCE magazine--a social, fashion & lifestyle publication for the young, stylish, metropolitan man. With a cover shot captured by Vihn Luong, Miguel stars in the "Music Meets Fashion" Issue, PT II.
Inside, the sex-talker speaks about his upcoming performance on the Grammys, Frank Ocean, his fashion must-haves and offers advice to guys hoping to get a "happy ending" for V-day. Here are the highlights:
PRINCE MAGAZINE: How involved are you in the pre-production phase for your upcoming Grammy performance?

MIGUEL: Everything kind of starts with my ideas and I allow my team to kind of handle it. I oversee everything to make sure it's on point with the original concept. That's also on the fashion side, wardrobe side and production side.

PRINCE MAGAZINE: Is there anything you must have with you on tour?

MIGUEL: I would have to have my Leather Biker Jacket with me everywhere I go!

PRINCE MAGAZINE: New York Fashion Week has begun! Who is your favorite fashion designer?

MIGUEL: My favorite designer is Hedi Slimane. Obviously, he is amazing! The way he revamped the Saint Laurent menswear collection, is exactly how I would rock it!

PRINCE MAGAZINE: What is your favorite song to perform?

MIGUEL: At the moment, it's "Where's the fun in forever". I think it's more of the arrangement on stage that has created some really unforgettable moments on this last tour in Europe. F*ck!ng amazing! The reaction from the entire crowd is not what you would expect from a traditional R&B show. I don't know if you seen Usher's last show, but just his energy, how he arranged it and the response was fun!

PRINCE MAGAZINE: This year at the Grammys, you are nominated along with a handful of talented male R&B artists. Whose music do you enjoy or listen to?

MIGUEL: Frank Ocean! He's an amazing f*ck!ng writer.

PRINCE MAGAZINE: You seem like the romantic type. What are 3 tips for guys that could lead to a happy ending on Valentines Day with their significant other?

MIGUEL: (Laughs) If music has to do with the night, you will be alright. Also, right about now is the perfect time to pay attention to the conversations you are having with your girl. She'll be dropping little gems of sh*t that she wants right now! So just pay some attention!

The complete story will be available February 9th, 2013.
Also on magazine racks.....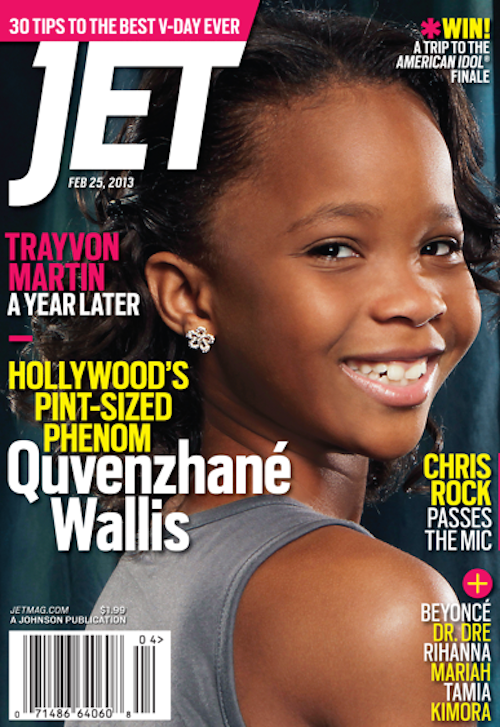 Oscar-nominated actress Quvenzhane Wallis and her mother sat down with JET to talk about Lil Q's instant fame and how they are making sure she doesn't miss out on her childhood. Also, they talked about her well-received role in Beasts of the Southern Wild.
Elsewhere in the magazine, Chris Rock talks about his upcoming tour and reveals that his family is one reason he hasn't signed on for his own show. "That's why I haven't taken many new jobs. I've been offered a lot of talk shows, but your kids are only young once…"
This issue hits newsstands Feb. 11.
BONUS:
Quvenzhane offers actress Sherri Shepherd a little advice on acting out her emotions in "purple."