LOVE....HOLLYWOOD STYLE: J.Lo, Casper & Marc Anthony's BLENDED Birthday CELEBRATION + Tiger Woods Sends Private Jet To RESCUE Rumored Boo Lindsay Vonn
Feb 09 | by _YBF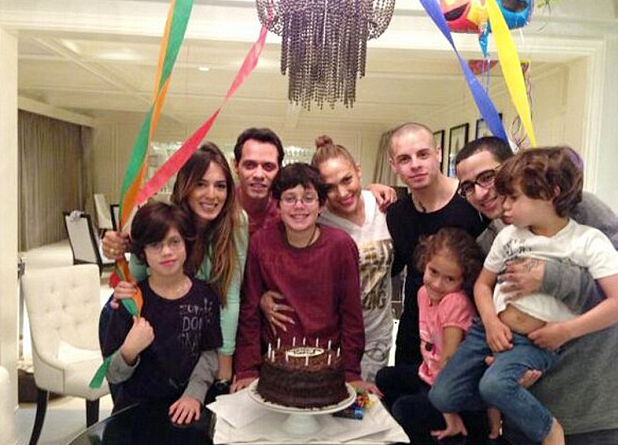 Celebs in Hollywood do things differently when it comes to relationships. See how exes Jennifer Lopez and Marc Anthony handle birthday parties and what happens when you're dating Tiger Woods and in need of a "lift"....
In Hollywood....it's not good to hold grudges since most couples remain active business partners after a divorce or breakup. So what do you do for holidays and birthdays once you find a new partner? The Hollywood way (as perfected by Russell and Kimora Lee Simmons) is to include everybody for one big happy family.
As evidenced by the Simmons clan who are the postcard for blended families, Marc Anthony and Jennifer Lopez read from the same rule book as they each brought along their romantic partners (Shannon de Lima and Casper Smart) for a celebration of Marc's son Cristian and his 12th birthday!
And they indeed looked like one big happy family in the photo (shown above). Jennifer tweeted, "Happy Birthday Cristian!!!!!!!!!!!!!!!!!! #houseparty #FAMILIA'." Then, Marc also tweeted a shoutout to Cristian and even included Casper "'Happy birthday to my prince Cristian! @Shadelima @DA1CHASE @jlo @beaucaspersmart #familia #houseparty'."
It's great to see everyone getting along.
And......
Tiger Woods put a new spin on the old "damsel in distress" tale. While regular chicks might have to drive themselves, hitch a ride to the airport or borrow a car for a few hours, Tiger is lending out his jet.
When his rumored new girlfriend, Lindsey Vonn tore a few ligaments during the Alpine Ski World Championships, Tiger sent HIS private jet (pics at the link) to Austria to pick her up so she could make it back to the States for a round of tests.
Must be nice.....
Photos via WENN/Instagram