WATCH: Director Ava DuVernay's "The Door" Short Film For Miu Miu....Starring Gabby Union, Goapele & Alfre Woodard
Feb 11 | by Natasha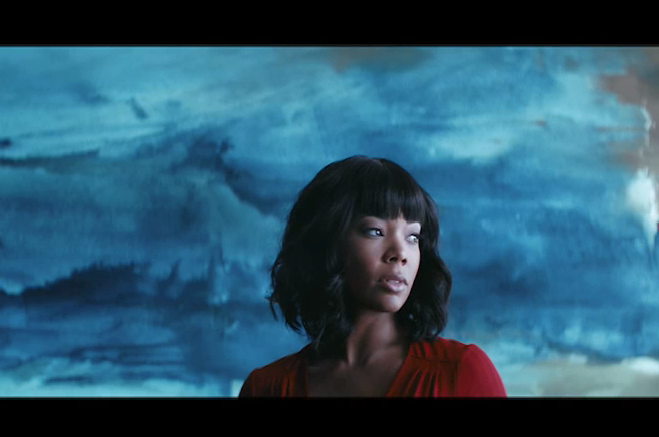 Here's a fabulous introduction to YBF chick Ava DuVernay--the first black director to win Best Director at the Sundance Film Festival. Ava just released her brand new short film for the fashion brand Miu Miu, that is part of the brand's "Women's Tales" series, which is a new way to link clothing with the changes in our lives.
Check out Gabby Union, Adepero Oduye, Alfre Woodard and more in the gorgeous visual "The Door" inside....
In a film with no words--just music--actresses Gabrielle Union, Alfre Woodard, Emayatzy Corinealdi, Adepero Oduye and now Goapele portray the life transformations and sisterhood that a woman experiences. From breaking away from a marriage to handling it with food, sadness and even partying, it's a fab look at how women help each other transform through life.
Director Ava DuVernay, who won at Sundance for her film Middle of Nowhere, showcases all of this in conjunction with a fabulous collection of Miu Miu clothing (the brand under the Prada umbrella), as this short is a part of the designer brand's own series. And we must say, this is a better way to show off your clothes and give them power than a simple fashion show.
Here's the full description given by Miu Miu:
The Door, by Ava DuVernay, the fifth Miu Miu Women's Tale, is a celebration of the transformative power of feminine bonds, and a symbolic story of life change. The symbolic centre of The Door is the front entrance of the protagonist's home. As she opens it to greet a friend in the powerfully framed opening scenes, she is shrouded in an oblique sadness.

"In the film, characters arrive at the door of a friend in need, bringing something of themselves," explains director DuVernay. "Eventually, we witness our heroine ready to walk through the door on her own. The door in the film represents a pathway to who we are."

Clothing is also a symbol of renewal, each change of costume charting our heroine's emergence from a chrysalis of sadness. In the final scenes, she takes off her ring, pulls on long, black leather gloves, and walks, transformed by the emotive power of the clothing, through the door.
Take a look at the gorgeousness above.
Check out the BTS footage where all the co-stars discuss what the film means in their eyes.