2013 STATE OF THE UNION: First Lady Michelle Obama Gets STUNNING In Glittery Jason Wu Dress + President Obama's Speech
Feb 12 | by Natasha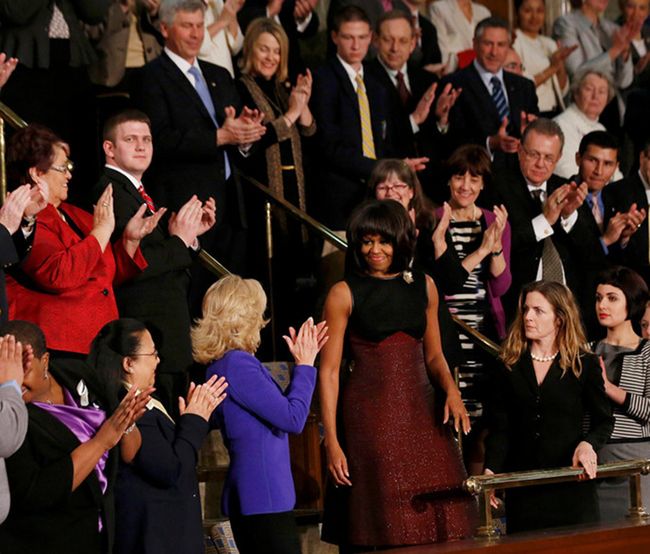 First Lady Michelle Obama brought the glam to tonight's State of the Union Address in a black and oxblood organza tweed Jason Wu dress. FLOTUS cheered on her Presidential husband as he talked companies like Apple keeping jobs in America, gun control, raising minimum wage and everything that matters to the American people.
Check out our fab First Lady inside, plus President Obama's full speech--and the highlights you need to know....
Mrs. O. made her way into the House Chambers looking predictably fabulous in a glittery sheath dress from one of fave designer's Pre-Fall 2013 collection, in the trendiest colors of the season, and an Alexis Bittar flower brooch.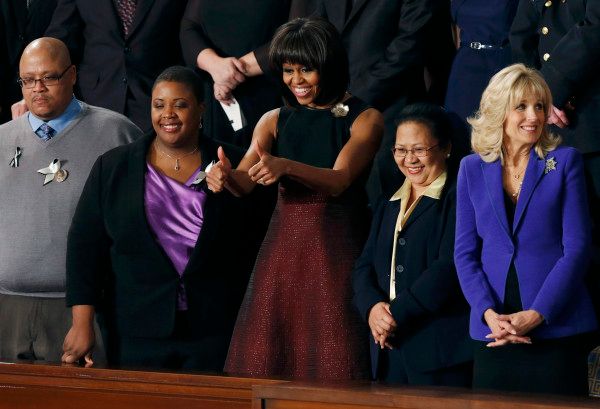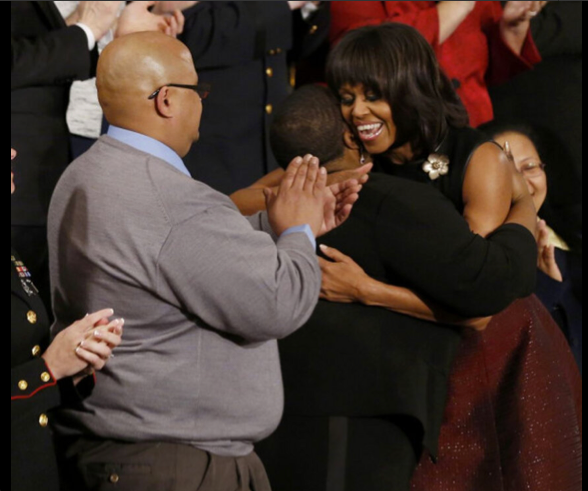 FLOTUS made her own statements tonight by who she had sitting in her private box inside the U.S. Capitol House chamber. From slain teen Hadiya Pendleton's parents (pictured above) to Apple CEO Tim Cook (as it was announced the co. will start making Macs here in the U.S. again), she put the country on notice for the changes her husband wants to make in this country.
Here are the highlights you need to know from Prez O's speech tonight. And video of the full speech is below.
On the current state of our union
"After a decade of grinding war, our brave men and women in uniform are coming home. After years of grueling recession, our businesses have created over six million new jobs. We buy more American cars than we have in five years, and less foreign oil than we have in twenty. Our housing market is healing, our stock market is rebounding, and consumers, patients, and homeowners enjoy stronger protections than ever before.
Together, we have cleared away the rubble of crisis, and can say with renewed confidence that the state of our union is stronger."
On gun control proposal
"Overwhelming majorities of Americans – Americans who believe in the 2nd Amendment – have come together around commonsense reform – like background checks that will make it harder for criminals to get their hands on a gun. Senators of both parties are working together on tough new laws to prevent anyone from buying guns for resale to criminals. Police chiefs are asking our help to get weapons of war and massive ammunition magazines off our streets, because they are tired of being outgunned.
Each of these proposals deserves a vote in Congress. If you want to vote no, that's your choice. But these proposals deserve a vote."
On slain Chicago teen Hadiya Pendleton
"One of those we lost was a young girl named Hadiya Pendleton. She was 15 years old. She loved Fig Newtons and lip gloss. She was a majorette. She was so good to her friends, they all thought they were her best friend. Just three weeks ago, she was here, in Washington, with her classmates, performing for her country at my inauguration. And a week later, she was shot and killed in a Chicago park after school, just a mile away from my house.
Hadiya's parents, Nate and Cleo, are in this chamber tonight, along with more than two dozen Americans whose lives have been torn apart by gun violence. They deserve a vote."
On Minimum Wage
"Tonight, let's...raise the federal minimum wage to $9.00 an hour....We'll work to strengthen families by removing the financial deterrents to marriage for low-income couples, and doing more to encourage fatherhood – because what makes you a man isn't the ability to conceive a child; it's having the courage to raise one."
On unemployment
"Our economy is adding jobs – but too many people still can't find full-time employment. Corporate profits have rocketed to all-time highs – but for more than a decade, wages and incomes have barely budged."
On Medicare
"I'm prepared to enact reforms that will achieve the same amount of health care savings by the beginning of the next decade as the reforms proposed by the bipartisan Simpson-Bowles commission. Already, the Affordable Care Act is helping to slow the growth of health care costs. The reforms I'm proposing go even further. We'll reduce taxpayer subsidies to prescription drug companies and ask more from the wealthiest seniors."
On Education
"Tonight, I propose working with states to make high-quality preschool available to every child in America.
Let's also make sure that a high school diploma puts our kids on a path to a good job. Right now, countries like Germany focus on graduating their high school students with the equivalent of a technical degree from one of our community colleges, so that they're ready for a job. At schools like P-Tech in Brooklyn, a collaboration between New York Public Schools, the City University of New York, and IBM, students will graduate with a high school diploma and an associate degree in computers or engineering.
We need to give every American student opportunities like this.
Four years ago, we started Race to the Top – a competition that convinced almost every state to develop smarter curricula and higher standards, for about 1 percent of what we spend on education each year. Tonight, I'm announcing a new challenge to redesign America's high schools so they better equip graduates for the demands of a high-tech economy. We'll reward schools that develop new partnerships with colleges and employers, and create classes that focus on science, technology, engineering, and math – the skills today's employers are looking for to fill jobs right now and in the future.
Now, even with better high schools, most young people will need some higher education.
Through tax credits, grants, and better loans, we have made college more affordable for millions of students and families over the last few years."
Photos: AP
Extras:
1. In breaking news, several TV network news reports state that police believe they have recovered the body of former LAPD officer, fugitive Christopher Dorner, from the burning cabin near Big Bear. He has been officially pronounced dead. LAPD just stated at 11p EST that all news reports are wrong and no body has been recovered or identified as cabin is "too hot" to enter.
As of Wednesday, 8:15amET, authorities now say human remains (believed to be Dorner) were found in burnt out cabin. But it will take days for forensic experts to identify the body officially. STORY