CANCELLED: The PLUG Gets PULLED On "Starter Wives Confidential"
Feb 18 | by _YBF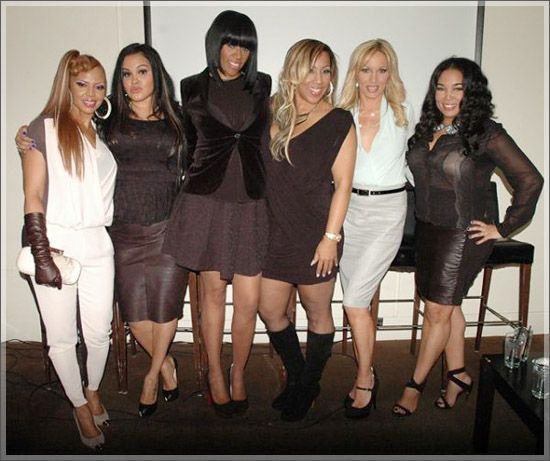 TLC has pulled the plug on "Starter Wives Confidential" and now Monica Taylor (Funkmaster Flex's ex) is speaking out about the show's end. Kinda. Read it inside....
Fans who fell in love with "Starter Wives Confidential" will have to go online to watch the remaining episodes as TLC has taken it off air. If you're wondeirng why the show won't air on television anymore, Monica Taylor, the "ex" of Funkmaster Flex wrote an open letter on her website to fans which listed a number of possible factors (including lawsuits, ratings, and outside fights) that proved to undermine the show.
Looks like the exes of 50 Cent, Floyd Mayweather and Maino will need to find another stream of income.
Here's her letter:
If you want to watch the remainder of episodes of Starter Wives Confidential you will have to go online to TLC.com. Ask me why? ::Long pause::

Is it ratings? Is it a change in network direction…or all the outside drama?!

It's no secret Starter Wives Confidential was plagued by legal inquiries and possible lawsuits from the beginning. Starting with Shanequa Tompkins being missing from all the episodes, her ex 50 cent allegedly had an agreement or contract with her of some sort that either prevented or made it difficult for her to partake in the show.

I know before taping even began I was questioned about my posts relating to anyone connected with Lamar Odom. Luckily TLC had no control over what I do or can post so it became a non-issue. I never did find out who was putting pressure on them. Cut to the Lil Kim situation, one which I'm still confused about and can't even confirm if there is a law suit.

Bringing a show with women of color to TLC we always knew was a challenge and I love that they believed in our stories and gave us a voice. A voice, honesty, love, a lot of drama, and a bit of ratchetness. (Usually required for any good reality show.)
I can only imagine there were a lot of people who were afraid what would come out on Starter Wives Confidential and as you saw from the first few episodes, the ladies were NOT holding back! Trust me it gets better and much juicier. But I digress. (I always wanted to say that in a post.)

I want to say that from the very bottom of my soul the support and love from viewers was more amazing then I imagined. Even the haters felt our show was genuine. I love that personally I got to not only bond with 5 amazing women but was allowed to show that not all celebrity wives sit home, model, or are simpletons. For the first time people got to know who I really am, if even just a little bit.
So it SUCKS that you have to watchpp episodes online but it beeeez like that sometimes.

But make sure you still log onto www.mommysdirtylittlesecret.com everyday for the latest news, gossip, and sexy info (c'mon y'all know me by now, why pretend anymore #endlesspromotion #bossbitch #keepitmovin #letmefinish)

P.S. I realize I didn't answer why we are not being aired anymore…you will just have to judge for yourself. ::Closes the shades carefully as she writes and presses send::
- Monica Taylor
It's too bad that the show didn't really catch on with viewers as Monica's interview with the baby mommas of 50 Cent and Floyd Mayweather proved that a bitter ex can provide a fountain of infomation about otherwise shielded celebrities. It was a good concept....just poorly executed.
*UPDATED* 50 Cent tweeted the below after the news hit the net:
I want to apologize to cast of Starter Wives for having the show pulled off the net work.i sincerely hope you find work.#smsaudio
So wrong.
*UPDATED* Wednesday, Feb 20
According to TMZ, the TLC network sent a letter to the stars of Starter Wives Confidential and blamed its cancellation on bad ratings:
"Unfortunately, due to the low ratings, the remaining episodes will not air on TLC, but will be viewable on TLC.com."

The decision by TLC isn't personal, although I know it is to you all, and for that we are very sorry. You ladies gave your all to the show and everyone at TLC is very disappointed that the viewers didn't take this ride with us."
Oh wells....