NEW GIGS: Shaq Re-Releases His PUMP Reeboks With Swizz Beatz & Tyga + Jay-Z Cops New Publishing Deal
Feb 20 | by Natasha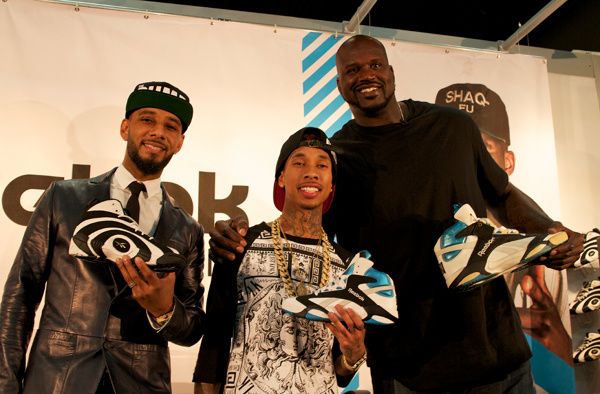 Throwback is everything these days. And NBA legend Shaquille O'Neal has joined Swizz Beatz, Tyga & the Reebok fam to re-release his classic Reebok PUMP Shaqnosis shoe. And we've got the pics from their big reveal day, plus Jay-Z's newest money move.....
Debuting for the first time in 1995, Reebok Classic is bringing back the Shaqnosis on July 19th. The sneakers--which will run for $125 at key retailers--will come before another Reebok Classic re-release, the Shaq Attaq dropping on April 19th ($160).
At a packed press launch at the Project Trade Show in Las Vegas yesterday, Reebok Classic welcomed the legendary Shaq back to the family fresh off the heels of the Iverson collection re-release. And this business move is all thanks Swizz Beatz, the Reebok Classic Creative Director.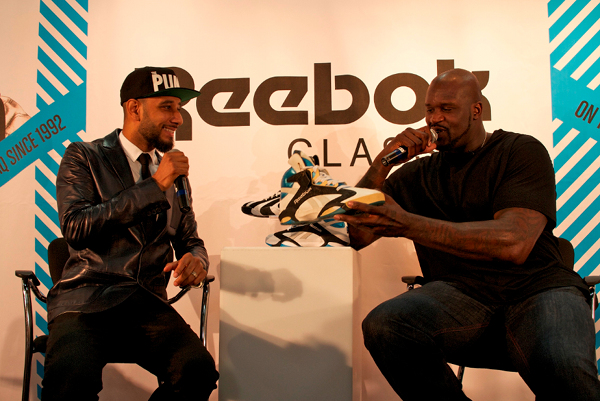 Swizz brought Shaq on stage to reminisce about being the first athlete with a signature shoe for Reebok, his days in the league, his first Reebok ad, doing music with Shaq, and more. And spokesman Tyga also popped up for the photo-op.
The 90's live on!
And in other big business moves, Jay-Z isn't just making his money touring, buying/repping companies and making music. He's taking care of the publishing side of his music too, i.e., the MONEY side.
Music publishing is not talked about much--but it should be. It's where songwriters either keep or sell ownership rights to their music, which dictates just how they will be paid from here on out every time their song is used anywhere. Plenty of artists care more about the lights, camera, action and only making a couple cents on each album. But certain artists, one being Jay-Z, care about their long term behind the scenes money. And they nab serious publishing deals for their music.
The NY Times reports:
Led by Mr. Platt (a 6-foot-8 figure widely known in the industry as Big Jon), Warner/Chappell has signed Jay-Z to a publishing administration deal for his future work as well as his music since 2008. Through a separate deal, Warner/Chappell will also represent the songwriters at Jay-Z's entertainment and management company, Roc Nation.

....

According to two people briefed on the talks, Mr. Platt is also said to be in advanced negotiations with another top EMI Publishing artist who is very close to Jay-Z: Beyoncé, his wife.
Mr. Carter said in a statement:
"The real meaning of success is being in the position to work with an individual you consider a friend. Jon Platt is such a person. He's a man of extraordinary character as well as a remarkably talented executive with an ear for music and an eye for talent. It's great to watch him grow to be one the best in the business."
Taking care of his own...and his wife and signees. Nice!