Chrisette Michele, Nick Cannon AND Rasheeda & Kirk All TAKE OVER "KONTROL" COVERS
Feb 22 | by _YBF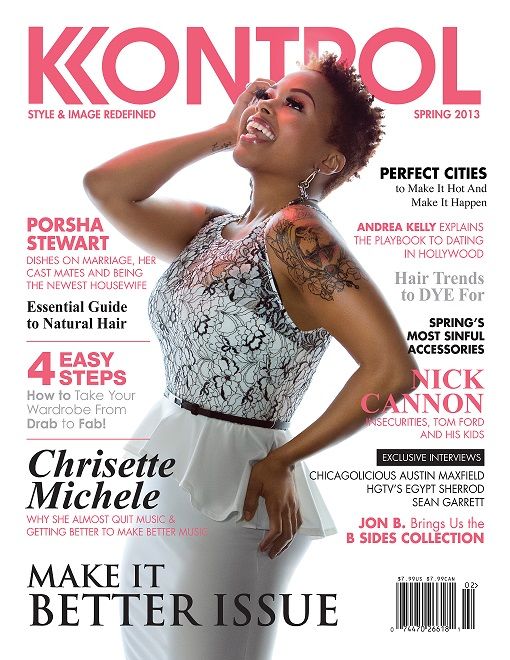 Despite landing the cover of KONTROL Magazine, Chrisette Michele had a rough week that included a trip to the hospital. Find out what happened inside and see her, Nick Cannon plus "LAHH ATL" stars Rasheeda and Kirk on their own covers of KONTROL.
In the March/April issue of KONTROL, Chrisette Michele commands the cover and uses the interview to establish her independence as an artist. She talks about how she felt once she realized the industry was stripping away her individuality and how she reclaimed herself. She said,
"My weakest moment in my musical career came when I almost decided to leave the industry completely because I didn't know that I could say no and do things on my own. I relied on the 'experts' to tell me what I needed and I thought maybe I wasn't strong enough to say no."
Though Chrisette was able to find her inner voice and take KONTROL, one thing she couldn't control her appendix. She was forced to cancel an appearance in NY's Times Square this week following a hospital visit to treat a ruptured appendix. OUCH. Fortunately, she's okay now.
Following a speedy recovery, she'll join Keyshia Cole on the Woman to Woman Tour starting on March 28 in Westbury, New York where she'll also promote her upcoming album Better (April 30th).
Watch BTS footage here:
Chrisette's shoot was captured by Allen Cooley, styled by Julian Lark with additional styling by Zamar Lewis and Jae' Dumas.
And.....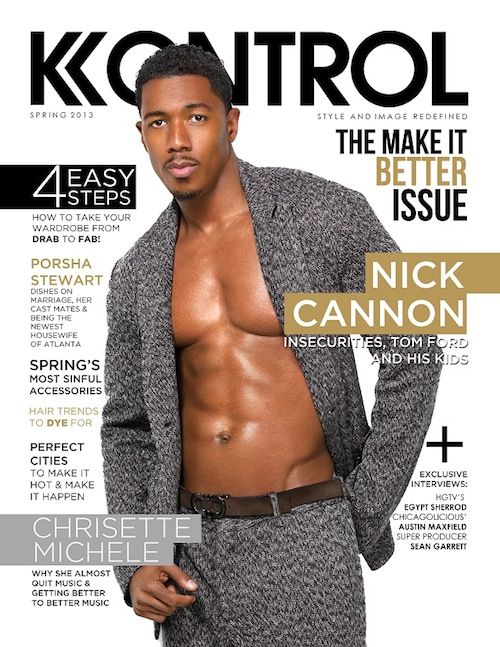 Nick Cannon also landed his own KONTROL cover for the March/April issue. Inside the mag, he opens up about his marriage to Mariah Carey as well as his health concerns regarding his kidneys. And he gives sweet fatherly advice to his kiddies. Here are the highlights:
Nick's take on fashion

"I believe fashion is all about making a statement. Whenever you put something on as long as it's saying something…You play with colors and textures it's all about really just making that statement." And when the topic of designers comes up? Cannon says without hesitation, "Right now I'd have to go with Tom Ford. The fact that he kind of goes over the top but still knows how to keep it classy."

His advice for Roc and Roe

Roe: "If you respect yourself, [men] will respect you. As soon as you give away your dignity, whatever you believe that to be, that's when people will start to treat you as such.

Roc: "Go hard! Simple. Whatever it is. Just don't be mediocre at anything. Anything you try, try to be the best you can possible be."
For Nick's cover, he was shot by Jonavennci Divad and styled by Julian Lark.
The Chrisette/Nick covers are available March 4th at Barnes & Noble.
And for the digital issue...
KONTROL landed Rasheeda and Kirk of "LAHH ATL".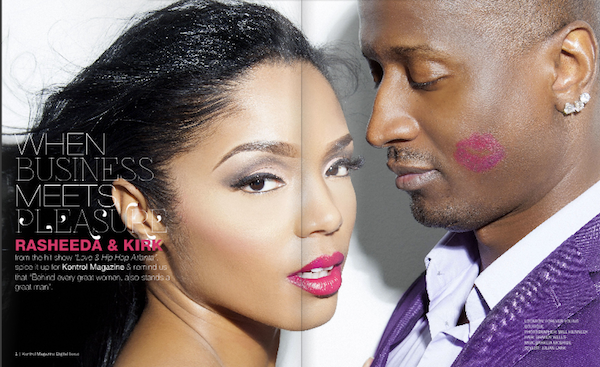 Inside the issue, they discuss filming the new season and what it's like to work together as a husband and wife.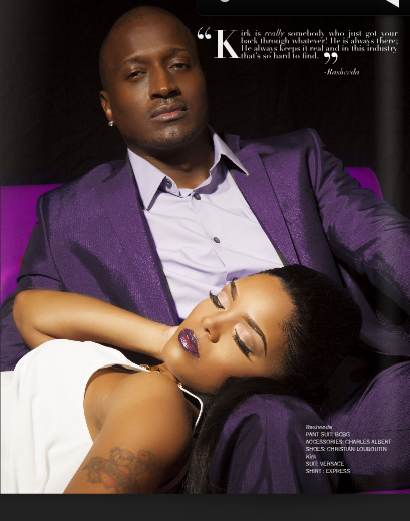 Check the couple out in the mag's Digital Issue #5 "THE LOVERS ISSUE." Rasheeda may not be our cup-o-tea rap wise, but she's freaking gorgeous.
Photos via KONTROL