K. Michelle Explains Leaving "Love & Hip Hop: ATL" + MiMi's Boyfriend Nikko Accuses Her Of Trying To "Get With Him"
Feb 22 | by Natasha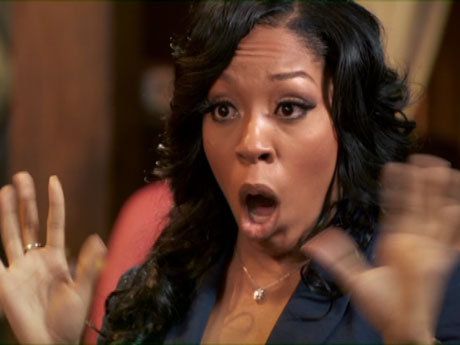 The drama just doesn't stop with these "Love & Hip Hop: ATL" cast members. Even if their series is not currently on the air, they're currently filming and making news.
Has K. Michelle revealed that she will only be appearing on half a season of "LAHH ATL" next season because she's leaving? And find out why MiMi Faust's new man Nikko says K. really doesn't like him...
D.C.'s Aladdin "Prince of the Airwayz" spoke with K.Michelle after her performance at the Howard Theater this week. And she revealed a little nugget of info about leaving "LAHH ATL." She first told the crowd on stage that she would be leaving the show, and she explained further backstage.
She explained, "I'm on this season. We're on the 6th episode, and after that...from now on it's only music. because that's all the time I have. So they're going to just have to catch me."
So it sounds like halfway through filming the season, K. is over it and focusing only on her music. Check out the interview below:
And that's not all. This morning on The Breakfast Club, after K.Michelle was in the studio this week for her interview, the co-hosts called up both Mimi and her boyfriend Nikko to explain the beef going down with them and K. After K. said on the air that Nikko was a down low dude and she believes he's gay, a flower throwing fight went down backstage at K's BB King's show.
This morning, MiMi said K. Michelle has ruined their friendship And Nikko chimed in saying that K. is only mad because she tried to get with him, and he turned her down and said, "I'm with Mimi." Nikko insisted that he is not gay and has never been with a man. She maintains she has never met Nikko before they met on camera just recently, so he's 100% lying about her trying to get at him. She said simply, that's MiMi's type....not hers. Womp.
Not only does this not sound believable, but it actually sounds like something a producer would have written out for this dude so that it ends up on the show. It is odd that he all of a sudden is soaking up all this new found fame after riding MiMi's coattail.
K. Michelle was then called up to respond. And SHE revealed that not only is Nikko on the down low, but it is supposedly well known in the Atlanta gay community that Nikko has a gay roommate in ATL. She says she doesn't care who you're poking your "business" into, but lying to women about it is a problem. Double womp.
You can check out the rest below: