Rihanna Spreads Across 4 ELLE UK April 2013 Covers, Says She WILL Have A Baby & Why She Sings "Stay" For "Best Friend" Chris Brown
Mar 01 | by Natasha
You've seen the outtakes a couple of the covers. Now check out all 4--including the special edition covers--of Rihanna looking runway fresh for the April 2013 issue of ELLE UK. And, check out the nuggets she dropped about babies, her boo, and business...
In one of her most modelesque magazine shoots yet, hottie Rihanna is making this game look effortless. In her cropped coif, she rocking a Louis Vuitton checkerboard crop top and Rihanna for River Isand maxi skirt in the above cover that will be hitting shelves, and a striped Rihanna for River Island top with a Prada stole for the second cover (below), as both covers go on sale March 6th:
The monochromatic shoot has a sexy simplicity, but Rih brings the goods in the interview. She explains in depth why she's begging Chris Brown--yes she specifically says the song describes him, to stay with her in her single "Stay". And we finally learn just why she loves Instagram so damn much.
But there's also these two covers that will be going out to River Island customers and a special edition cover as well, both below: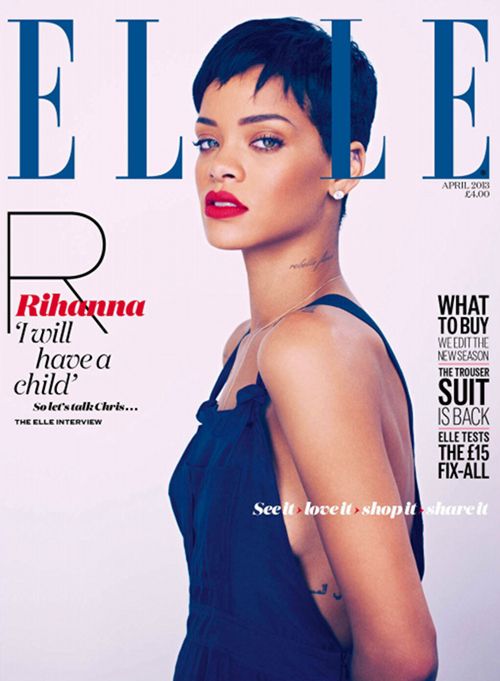 River Island exclusive cover, in stores March 5th--Rihanna for River Island overall dress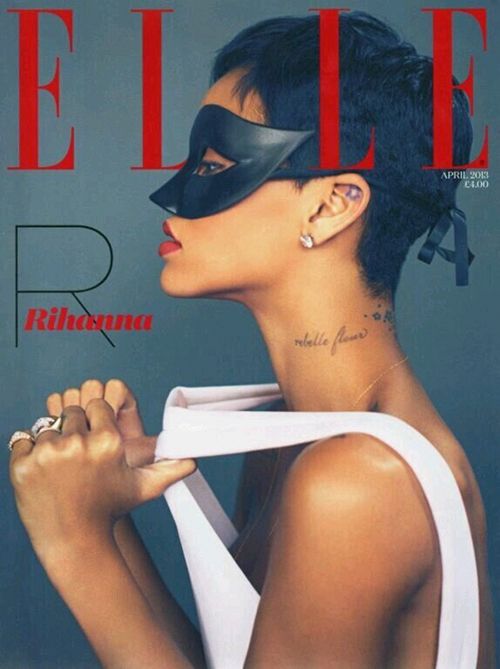 Dion Lee Spring/Summer 2013 white top and a Theatr'Hall black Venice mask
And there's 12 pages inside the mag showcasing Rihanna's sex appeal.
Here's the excerpts from her interview about babies, Chris & setting up her business for long term money:
On Chris Brown being the person she loves:

"Stay [new single] is a story about having love that close and wanting it to last forever. You don't have that feeling with everybody so when you have it you don't want to let go of it. I would definitely say that he [Chris Brown] is the one I have that kind of relationship with."

On wanting a great friendship with Chris Brown above all else:

"...right now that's just what we want, a great friendship that's unbreakable. Now that we're adults we can do this right. We got a fresh start and I'm thankful for that."

On why she got her gun tattoo and telling the truth:

'Everybody wanted to know what was happening in my life. Is she a drug addict? No. Is she an alcoholic? No. Is she a victim? No. That's when I got the gun. It was a symbol of strength. I'll never be a victim.'

'That's why I'm posting pictures of myself smoking pot, to tell the truth about myself. I've got so much to think about, why bring all this extra s*** by being dishonest?'

On where she'd like to be in five years time:

"I will probably have a kid. And I'm praying I can go on vacation for a good month. And I'll have set some things up so I don't have to tour for the rest of my life, even though I love touring. I want health and happiness in five years. I want to be healthy and happy."

On her love of high street fashion and her new collection for River Island:

"High-street shops pay more attention to the kids on the street than to the runways, so in a way I like to mix both. I love a high-end bag or jacket with a simple dress. I just thought, I'm going to make something for everybody - every personality, every body type."

On loving posting pictures of herself and her life on Instagram:

"Well I instagram everything about my life, whether it's smoking pot, in a strip club, reading a Bible verse - how crazy, I know! - or hanging out with my best friend, who happens to be Chris".

On her mum disapproving of her naked pictures on Instagram:

"I'm not afraid of any person in this world but her. I'm terrified of her! She called me two days ago and reeled me in about two naked pictures Melissa [her best friend] put up on Instagram - a sneak-peek from a photo book she's making about me. My mom, she went crazy on me. I was like embarrassed. I felt like I got my ass whupped in front of my class in school! She said, 'This was like a private moment and you're just parading this around." She humbled the f*** out of me.'
Check out the BTS footage from her shoot below:
And video of the popstress auditioning dancers for her upcoming DIAMONDS tour that kicks off in just 7 days:
Photographs by Mariano Vivacano