TV FAB: Nia Long DISHES On If She'll MARRY Boyfriend & Child's Father Ime Udoka & Dishes Cute Stories On Her Sons!
Mar 01 | by _YBF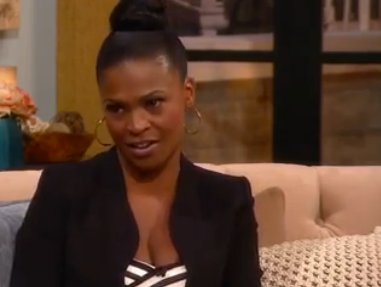 "House of Lies" star Nia Long appeared on Access Hollywood Live this week where she talked about working with Don Cheadle, her two sons and how she and her boyfriend Ime Udoka handle their bi-coastal relationship and what she thinks about marriage. Watch the interview inside...
Actress Nia Long stopped by Access Hollywood Live yesterday where she chatted about her work on the hit Showtime series "House of Lies" starring Emmy-winning actor Don Cheadle, her children and her relatonship. The 42-year-old also revealed that she grew up with a poster of Barbara Streisand's Superman album on her wall. She said she's a huge fan of the actress/singer and described her as "the cream in my coffee. So smooth."
Also, Nia will appear in the sequel to The Best Man which has been titled, The Best Man Holiday. It's expected to open November 15.
Here are the highlights from her chat:
On her fiesty "House of Lies" character Tamar


"I love the show and I will say that Tamar is a little frisky, she's not what you expect. She's been disappointed in her marriage, they're going through a rough spot. Her husband's taken a job in New York and she's like '...you promised I could get back to work. It's been several years of raising the kids.' It's kind of like my own life. It's so weird how art imitates life and life imitates art.

So as the season progresses you see how these two challenge each other (referring to Don Cheadle's "Marty" character). You know, because they're friends from college. And she knows the real Marty. She's like, 'Come on Martin. I know you're Marty here....but I know Martin.' I know how to push his buttons."

On her two adorable sons:

I have a 12 year old and a 15 month old. He is so juicy. That's my juicy baby! I was a little worried because of the age gap, but they have the most delicious relationship. Because the little guy looks at him like 'oh my God you're my hero". And my big boy is like 'Oh I can actually rough house you because you're so juicy'. They're awesome."

I get very little sleep but it's all just so wonderful. It really enriches your life and I have such a clear perspective of what my needs are and where I'm going. Babies are like light in your life...they keep you on your toes. And he loves boobs! He never wanted to stop nursing!

On possible marriage with her long-term boyfriend Ime Udoka:

"I don't know. He's an assistant coach for the Spurs so we go back and forth to San Antonio. It's tough, it's hard, it's a challenge. But we are committed to one another and our babies. You know...you just do what you got to do.

Coaching was a great opportunity for him coming from being a player. It was a perfect way for him to parlay into his coaching career so I have to support that."
Watch the interview here: