Keri Hilson Gets IN HER FEELINGS, Tells The "Haters" To LEAVE HER ALONE!
Mar 05 | by Natasha
Keri Hilson is mad y'all. She's in her feelings on Twitter going off about being done enduring all the criticisms from her "haters." And she's demanding folks to leave her the hell alone.
Deets inside...
"Pretty Girl Rock" singer Keri Hilson went on a Twitter rant recently to express her annoyance with the hateful messages and tweets aimed at her. And instead of logging off or simply not reading people's responses, she got her feelings into a tizzy about random people's criticisms.
Apparently, some folks are still railing her for that line from her "Turnin' Me On" song Beyonce stans believed was aimed at their Queen Bey:
"Your vision cloudy if you think that you the best/ You can dance, she can sing, but need to move it to the left..."
Keri denied it was about Mrs. Knowles Carter, and then rumors hit the net that she refused to hold up a certain magazine with Beyonce on the cover when she was at an event for the publication. And rumors about a Keri/Beyonce beef have been flowing ever since.
Keri has said many times there is no beef between the two, but she can't get away from people calling her lame and wack and giving her harsh criticisms via social media and publications. So she got fed up this week and wrote this ish: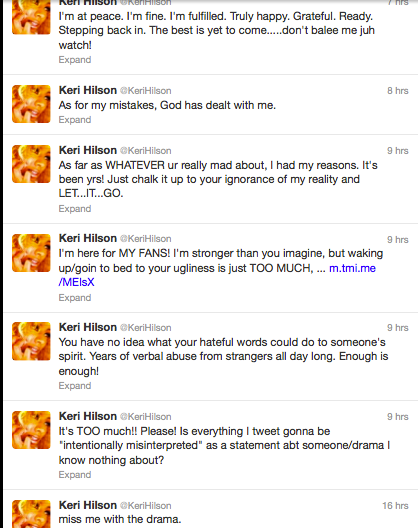 "I'm here for MY FANS! I'm stronger than you imagine, but waking up/goin to bed to your ugliness is just TOO MUCH, kids. I get it, ok? You can stop now."
Chile...
To be quite honest, we didn't even know Keri was still trying to continue a singing career as we haven't really heard (or paid attention to) much outside of her recent sexy Mexico vacay with boyfriend Serge Ibaka (pictured below):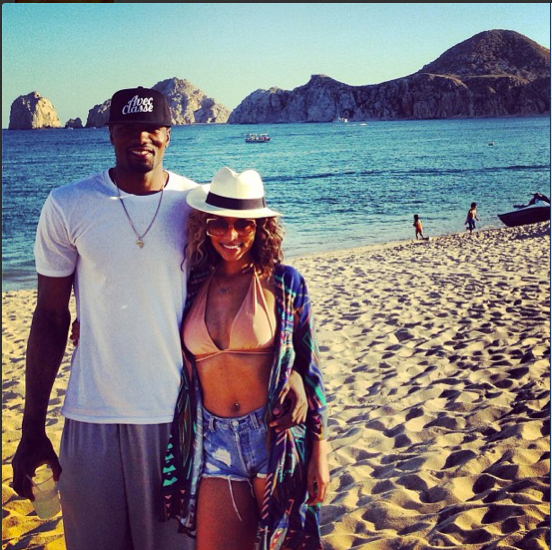 So who is hating and why? Is this all an exaggeration of just a few random people saying stupid things (like they do to EVERY celeb)? Or does she have a point?
If she wants our advice....we suggest she sit back, collect those writing checks and go be with that sexy ass man of hers. And ignore the foolery like stars who know they are stars do.
She's also working on a third album with Timbaland to be released this year. Do you boo.