Chris Brown Goes On Club Rant Saying "F*ck Drake", Addresses Valet Drama In Cali & More
Mar 07 | by _YBF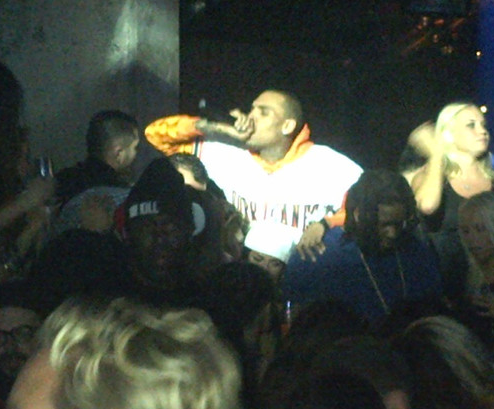 Chris Brown is not having a good week in the PR department as he's allegedly fought with his bodyguard, cursed out a valet parking attendant and hopped on stage to deliver an anti-Drake rant. Get the deets inside...
Chris Brown just can't seem to catch a break. To see just how nuts Chris' week has been, let's trace back his steps. Last night, Chris hopped on stage at Emerson Theatre in Hollywood. E! Online reports when the DJ started spinning Drake's song, "Started from the Bottom," Chris hopped on the mic and immediately told the DJ to stop playing the music. He told the crowd, "The DJ can play this s--t, but I want you all to know, F--k Drake!" and gave everyone the middle finger. The rant "naturally" lead into a impromptu performance of "As You Were," "Turn Up the Music" and "Beautiful People."
The DJ from that night tweeted this:

But before the anti-Drake rant, TMZ reports Chris went to a charity event at PINZ bowling alley in Studio City, CA. After the event ended, Chris attempted to get his car keys from the valet but was told he needed to pay $10. Sounds reasonable right? But once Chris found out that everyone else only paid $5--according to someone in his crew-- he felt like he was taken advantage of. So this may explain why he cursed out the valet saying, "Gimme my f*cking keys ... f*ck ten dollars. Gimme my keys ... we gonna turn this whole spot up ... I promise you." After the threat to "turn the spot up," someone from Chris' entourage paid the ten bucks.
And before the valet incident, there was a plane trip from Bermuda! Sources at E! say Chris had a fight with his bodyguard Big Pat on a prvate plane during a stoppver on the island for fuel. The "fight" was so problematic that Pat reportedly flew home by himself...on JetBlue.
It sounds like Chris needs a vacation from the spotlight. Do we feel like CERTAIN media is targeting Chris for some foolish things? Yes. Should he go out of his way to not give them any reason to? Probably.
Watch a video from the parking lot rant here: