LEGAL WARS: Ne-Yo's Ex Girlfriend SUES Him For Defamation + Deion Sanders Wins Primary Custody Of The Kids
Mar 13 | by Natasha
Ne-Yo may be busy on his 6-date UK tour at the moment, but his legal woes are also getting shine back in the states. Check out why his ex-girlfriend Jesseca is officially suing him, plus how Deion just won official primary custody of his kids....
Remember when Ne-Yo's ex-girlfriend...who once lied to him about being the father of her child...threatened to sue him for defamation this past December? Well, she's gone and officially done it.
Jesseca White filed a lawsuit claiming that Ne-Yo's statement on his VH1 "Behind The Music" was defamatory to her. She says he called her "an unchaste woman who deliberately tricked him into believing he was the father of her child ... so that she could fraudulently bilk him of 'ungodly amounts of money.'"
Well, she did put his name down as the daddy on the birth certificate of her daughter back in 2005, when she and Ne-Yo were dating. And the paternity test did prove he was NOT the father.
Jesseca claims she's lost out on business as a graphic designer and photographer because of his statements. And she's been called all kinds of b*tches and sluts after his episode aired.
TMZ reports she's suing for unspecified damages.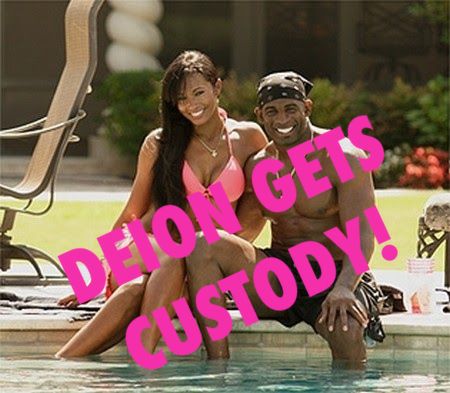 In other legal news, Deion Sanders has won primary custody of all three of his and Pilar's kids.
Back in December, his estranged wife Pilar lost temporary custody of their two sons (ages 11 and 13). Now, the court has awarded Deion official primary custody of the kids. As for their 9-year-old daughter, he and Pilar will share custody.
And Deion has been given the right to make all decisions in regards to where their children live, their health, their education and their well being.
Pilar says that the judge would not allow testimony in regards to that April 2012 domestic dispute that ended with Pilar having visible bruises, and Deion claiming that she hurt HIM.
Deion told the Dallas Morning News while leaving the McKinney courthouse yesterday, "I'm thankful; I'm elated. In any war, there will be casualties, but I didn't want the casualties in this case to be my kids."
Pilar told media, "If that's not one-sided, you have to be blind, dumb, crazy and stupid. Unfortunately, my children will suffer, but I raised them well enough to understand what's what."
The custody issue has been settled, but Pilar says she will appeal. They are also still in court about division of the martial assets.
Oh, where have we seen this situation before....
Photos via Pacific Coast News