MAGAZINE FAB: Nicki Minaj Gets BLONDE & WET For ELLE + Morris Chestnut Does ROLLING OUT
Mar 14 | by Natasha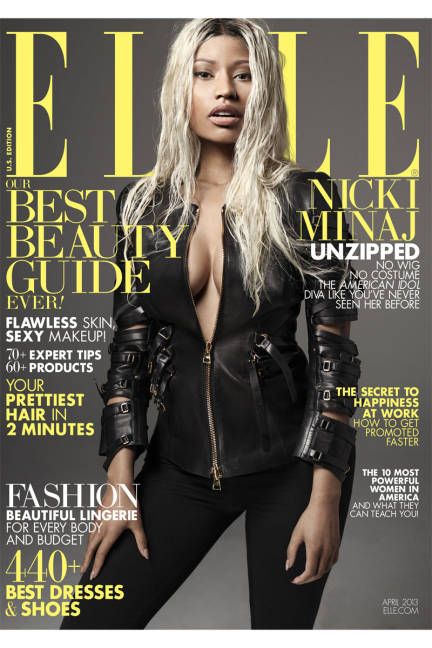 After arriving 13 minutes late--in a jumpsuit--to the live taping of "Idol" last night, judge Nicki Minaj is making up for it with her new ELLE magazine cover for the April 2013 issue.
Check out her Tom Ford look, plus Morris Chestnut looking yummy on Rolling Out....
Hopefully Nicki will learn how to get to places on time--even with traffic--for the sake of her professionalism and keeping a job. But at least she's looking more put together than usual for her second cover of ELLE magazine.
The "High School" rapper is rocking her blonde semi-wet wig and leather jackets and face-shirts for her April 2013 spread. And check out what she had to say about her advice for women and bullying before checking out the rest of the spread:
Her advice for women on how to command respect: "My advice to women in general: Even if you're doing a nine-to-five job, treat yourself like a boss. Not arrogant, but be sure of what you want— and don't allow people to run anything for you without your knowledge. You want everyone to know, Okay, I can't play games with her. I have to do right by this woman. That's what it's all about."

On her plans for world domination: "My goal in the beginning was to buy my mother a house. Now I realize, Okay, if I really focus and become a key player in business, then I can build an empire. I'm thinking of a legacy that I can be proud of and wealth that my grandchildren can use to go to college. So world domination— in terms of providing for my family— is absolutely my goal."

On experiencing bullying in school as a child: "I went through a lot of bullying early on. Girls made my life a living hell. We had come to America from a different country. My brother and I had accents. It was very tough. So I've always put up this wall— it was a self-defense mechanism growing up— because I was almost expecting people to attack me. And I still have it. It's sad."

On her dramatic make-under for her ELLE photo shoot: "When I saw myself with barely any makeup at, it was such a… like, I'm so, so attached to my pink lipstick, it's hard. I feel that it's become a part of me. To go in front of the camera, without pink lips or big ol' crazy lashes— you know, nothing— I felt naked. It was scary! So this photo shoot was a real accomplishment in my eyes."
More pics: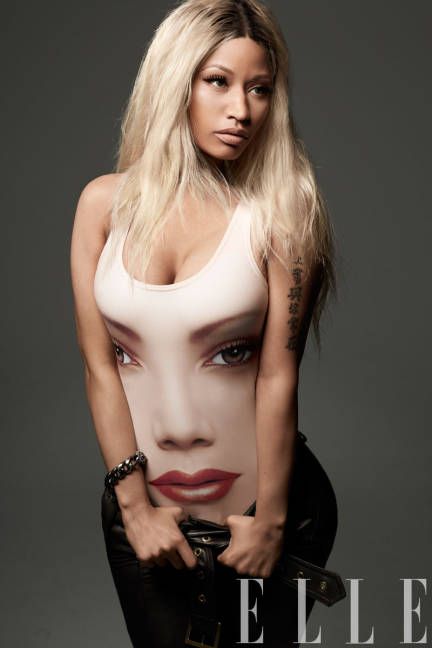 Print bathing suit, Jeremy Scott for Adidas, $95. Leather trousers, Salvatore Ferragamo. Link bracelet, Chrome Hearts, $1,595.
Strap-trim napa leather jacket, Tom Ford. Leggings by American Apparel, $28.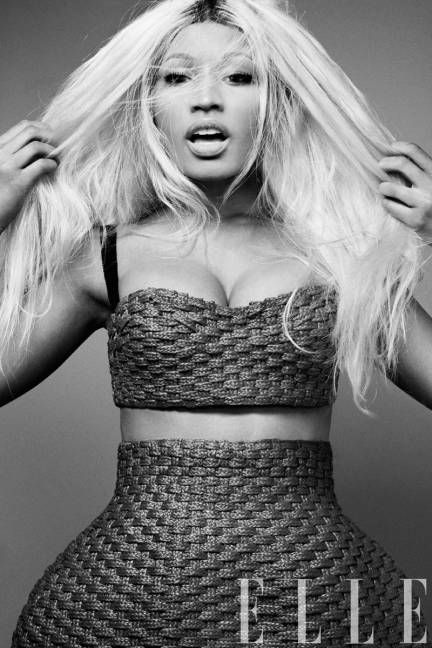 Woven raffia bustier, $1,325, skirt, $3,095, both, Dolce & Gabbana
Read the full interview on newsstands March 18! Here's some video about it:
Morris Chestnut is promoting his new movie The Call on the cover of Rolling Out magazine. Here's what they had to say about his cover story:
Co-starring in the February 2013 blockbuster "Identity Thief", opposite Jason Bateman and Melissa McCarthy; and this month in "The Call" as Halle Berry's love interest, Chestnut's star appears to be shining even brighter as of late. 2013 will undoubtedly prove to be one of Chestnut's most notable years, with a summer blockbuster hit on the way, "Kick Ass 2", an appearance on the fifth season of Showtime's "Nurse Jackie", and the long awaited sequel to "The Best Man" making its way to theatres in November. Although he is one of the most celebrated actors in Hollywood, and it's no secret he is considered to be one of the most handsome men on the planet, Chestnut insists family is his first priority. The married father of two has perfected balancing his public persona against his starring roles as husband, father, brother and even friend.

And about getting the call for the role to play opposite Halle Berry:
"It was difficult. It was difficult. I mean it was going to be a deal breaker. They said they wanted me for the movie and I said 'who's playing that role,' they said 'Halle' and I said 'I don't know if I can do it. I have to kiss her and stuff,' " he jokes.
Check out the full cover story over at RO.
ELLE Photos: Thomas Whiteside, Rolling Out Photog: DeWayne Rogers